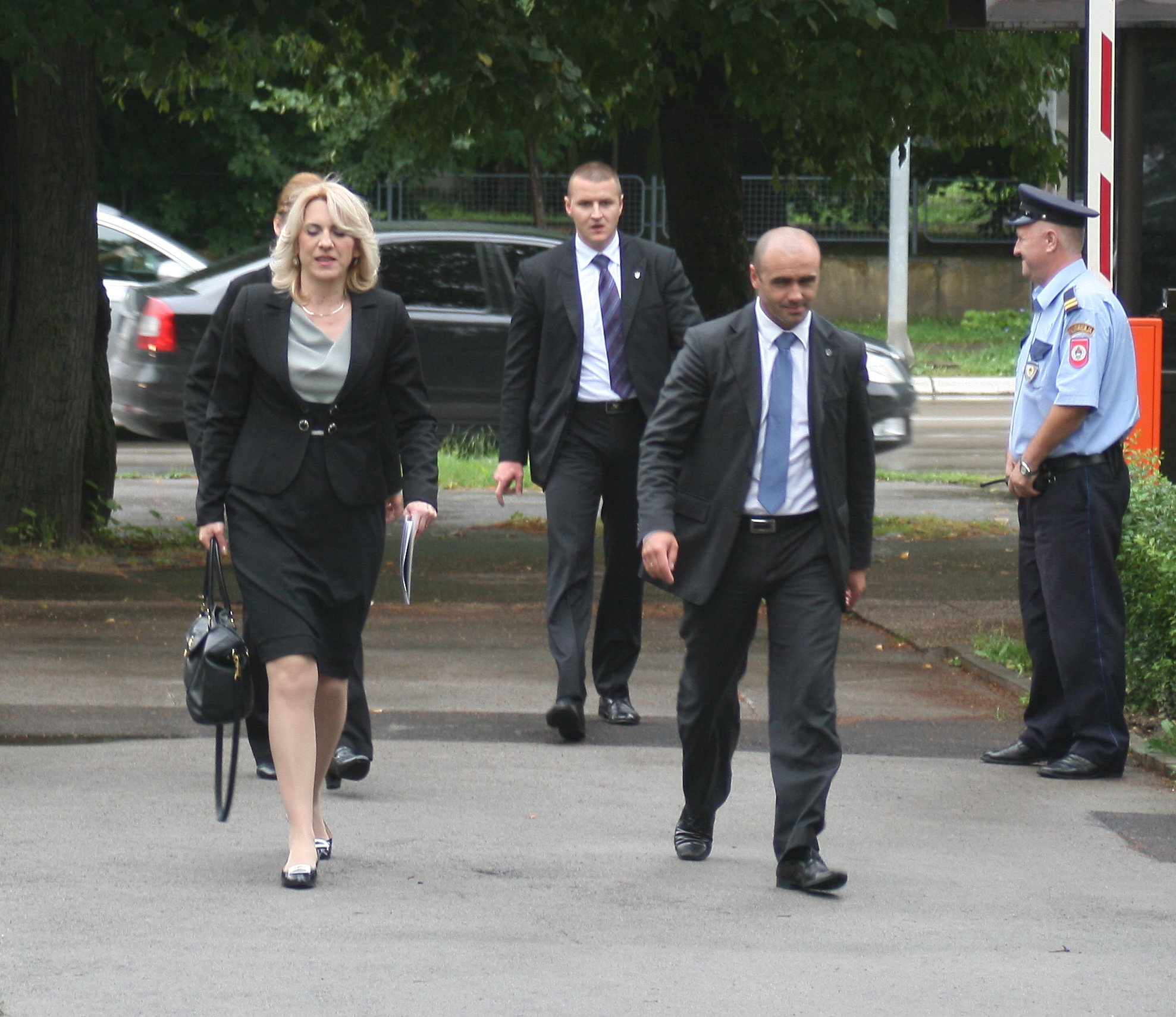 Zeljka Cvijanovic heading to today's SNSD meeting, before she is officially nominated
By Mladen Dragojlovic – Banja Luka
The governing party in the Republic of Srpska, the Alliance of Independent Social Democrats (SNSD), decided on Wednesday to nominate the present RS Prime Minister, Zeljka Cvijanovic, for the Serb member of BiH Presidency at the elections in October this year.
If elected, she will be the first woman on that important political position, as she was the first woman Prime Minister in Republic of Srpska. At present, apart from Prime minister, she is also Secretary for international relations in SNSD.
On the place of the three-member Presidency, Cvijanovic is supposed to replace Nebojsa Radmanovic, who has served two terms and cannot be candidate again. Since he is still not on any SNSD list, it is most probably that he will retire.
Cvijanovic opponents will be, as things are, the leader of the Party of Democratic Progress, Mladen Ivanic, and the president of the smaller Party of fair politic, Dragomir Jovicic. Several years ago, Jovicic was Interior Minister in RS Government when Ivanic was Prime Minister. The biggest opposition party, Serb Democratic Party (SDS), decided to leave candidature for BiH Presidency member from RS to PDP since they are in a coalition called Alliance for Change, and hope to beat SNSD at the elections on all levels.
Looking from an angle of gender sensitivity, Cvijanovic candidature is a step forward but not unusual. She is the person the Dodik trust the most and she became RS Prime Minister in March 2013, replacing Aleksandar Dzombic. But, RS had a woman on a high political position before. Biljana Plavsic served as the RS President during the period 1996-1998 and was elected with the support of Milorad Dodik's party. After that, she was convicted on 11 years of prison for war crimes. Since 2009 she has been living in Belgrade.
For the citizens of Banja Luka, Cvijanovic nomination is not a surprise but, mostly women, support it.
"Women in politics are desirable because they can make some changes. I think that Cvijanovic in B&H Presidency can make some steps forward for the large population of female citizens in the state. Through her we will be able to make our voice louder", Olga Stevic, citizen of Banja Luka told IBNA.
Olga is Serb, but married with a Bosniak and has lived her entire life in Banja Luka, capital of the Republic of Srpska. She emphasized that, because of her husband's nationality, she cannot be a nationalist in any way and that her opinion is based on the fact that women in B&H politic are underrepresented especially on higher political positions.
(photo: Mladen Dragojlovic)