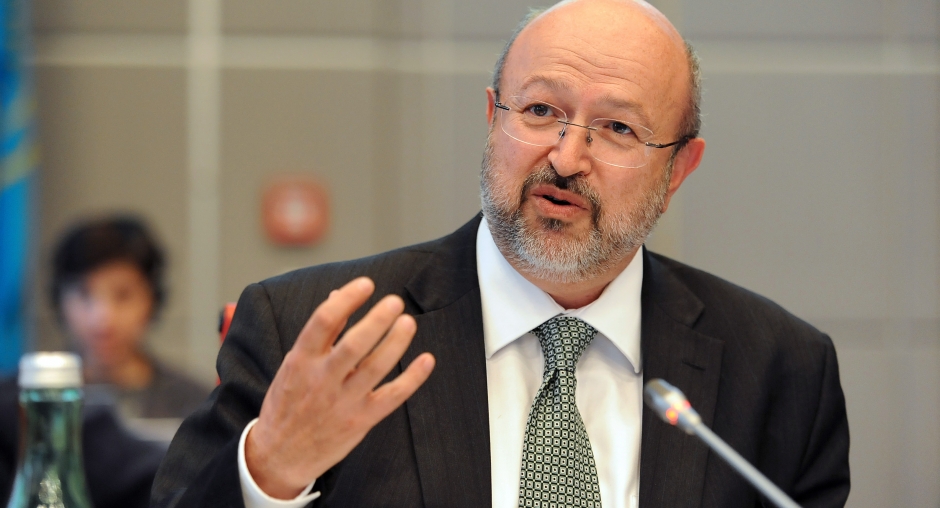 Sarajevo, April 14, 2015/ Independent Balkan News Agency
By Mladen Dragojlovic
OSCE Secretary General, Lamberto Zannier (photo), visited Potocari Memorial Center Tuesday and paid tribute to all victims of the Srebrenica genocide.
Zannier then visited the Documentation Center in Potocari and said that he felt the need to visit this place and pay tribute to all victims of the crime that took place in Srebrenica and Potocari.
"It is important to continuously work on reconciliation, and this is a lesson that we have learned from past conflicts. Reconciliation is the cornerstone of further progress and it is also important to constantly bear that in mind and do not forget what happened. We should not look back but forward and seek new opportunities for a better life for all citizens, Zannier said
His official visit to BiH begun Monday afternoon when he met the newly appointed Chairman of BiH Council of Ministers, Denis Zvizdic, in Sarajevo to discuss modalities of future cooperation of BIH institutions with OSCE.
As it was announced from Zvizdic's office, during meeting he said that BiH is a young democracy still suffering from 'children diseases', so in that segment OSCE support appears very important for the development of rule of law and equality based society. He added that BIH will soon take over the Presidency of the Council of Europe, while Serbia is to take over the Presidency of OSCE, which is a sign of positive trends in the region and of the importance of regional cooperation, needed to have the whole region moving forward. In regard of this, he noted a full commitment of Bosnia and Herzegovina to European integration and integration to NATO.
Chairman Zvizdić also said that a shared aim is to make BIH a better place to live, and underlined OSCE positive role in reconstruction efforts in BIH, development of democratic institutions, as well as in the sectors of education and media.
"Joining MAP would provide an additional security and system stabilisation, while the SAA activation would mean a structural order and legal security, which are two important factors for the economic progress of Bosnia and Herzegovina and better life of all our citizens", Zvizdic added.
Zannier stressed that the OSCE is interested to continue the cooperation with BiH institutions, especially in the areas of education, rule of law, security and prevention of climate change effects. He stressed doubtless support of OSCE to the European integrations of BIH, adding that the mission in BIH is amongst the most successful OSCE field missions.