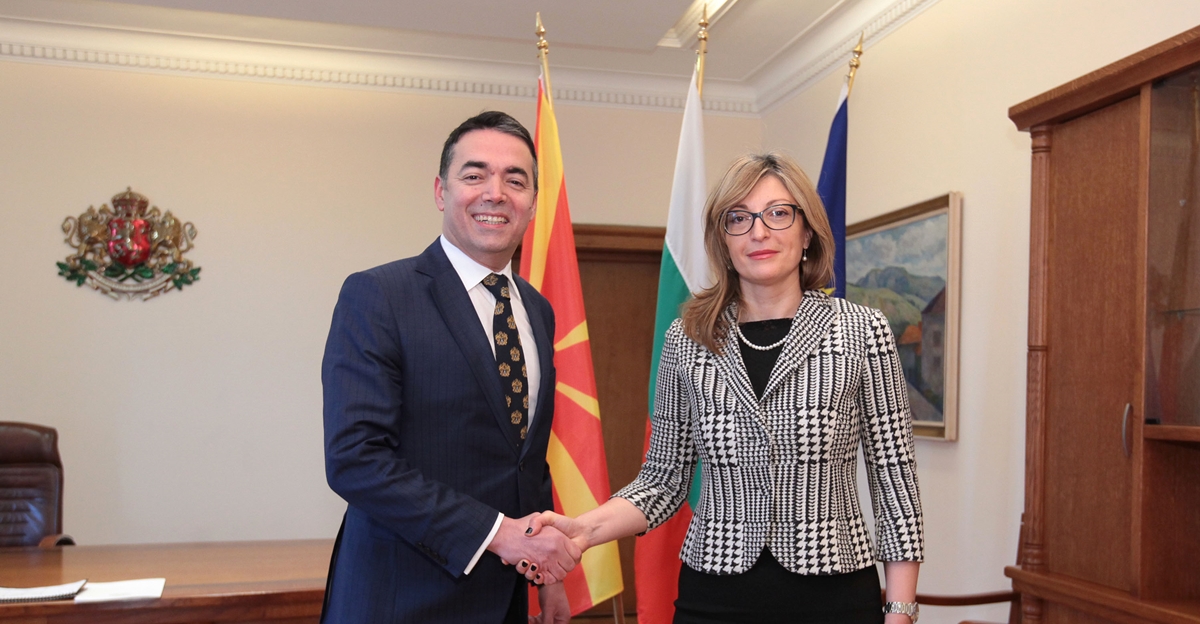 Zajednička međuvladina komisija za trgovinu i ekonomsku saradnju između Bugarske i Severne Makedonije održaće svoj prvi sastanak u Skoplju 6. i 7. marta 2019. godine, deset godina nakon što je osnovana.
To se razultat razgovora između ministra vanjskih poslova Severne Makedonije Nikole Dimitrova i njegove koleginice Ekaterine Zaharieve u Sofiji 25. februara. Dimitrovljeva poseta se događa manje od nedelju dana nakon što je Narodna skupština Bugarske jednoglasno odobrila ratifikaciju Protokola o prijemu Severne Makedonije u NATO, čime je postala jedna od prvih zemalja članica NATO-a koja je to uradila.
Ministar inostranih poslova Severne Makedonije je rekao da je stvarni interes njegove zemlje da sprovede bilateralni sporazum o dobrosusedstvu sa Bugarskom.
Sporazum je potpisan 2017. godine i odobren od strane zakonodavnih tela u Sofiji i Skoplju u januaru 2018. godine, kao potez za okončanje dugogodišnjeg  zastoja u odnosima između dveju zemalja, uključujući pitanja vezana za istoriju i identitet.
Dimitrov je rekao da je potpisivanjem ugovora 2017. godine njegova zemlja otvorila novu stranicu u svojoj istoriji.
"Odlučni smo da je pišemo uz vašu podršku," rekao je Zaharievoj.
Zaharieva se zahvalila Dimitrovu na njegovom govoru 6. februara, kada su u Briselu stalni predstavnici potpisali NATO protokol o pridruživanju Severne Makedonije, u kojem je Dimitrov izrazio zahvalnost bugarskom narodu i premijeru za podršku i primeru koji je Bugarska pokazala za rešavanje sporova na Balkanu.
Potpisivanje ugovora bilo je tek početak, rekla je Zaharijeva.
"Nemojmo sada prestati sa našim naporima na približavanju i ne dozvolimo politikama iz 19. veka da stoje na putu naše zajedničke budućnosti sa Republikom Severnom Makedonijom," rekla je Zaharijeva.
Zaharieva je iznela nekoliko zadataka koje treba hitno rešavati u obe zemlje. "Važno je održati tempo rada Zajedničke multidisciplinarne stručne komisije za istorijska i obrazovna pitanja", rekla je ona.
"Hajde da gradimo takvo prijateljstvo da ga nijedna oluja ne može uništiti", rekla je Zaharijeva.
Ona je opisala sastanak zajedničke međuvladine komisije za trgovinu i ekonomsku saradnju, koji je zakazan za mart, kao pozitivan razvoj, ističući da je ovo prvi sastanak komisije od osnivanja pre deset godina.
Isto tako, trebalo bi nastaviti sa većim ekonomskim i infrastrukturnim povezivanjem sa Republikom Severnom Makedonijom.
"Ne možemo da pređemo 208 km do Skoplja za četiri sata", rekla je Zaharijeva. "Ovo je put zbližavanja – da se ispravi istorijska nepravda izgradnjom nedostajuće infrastrukture između naših zemalja", rekla je ona.