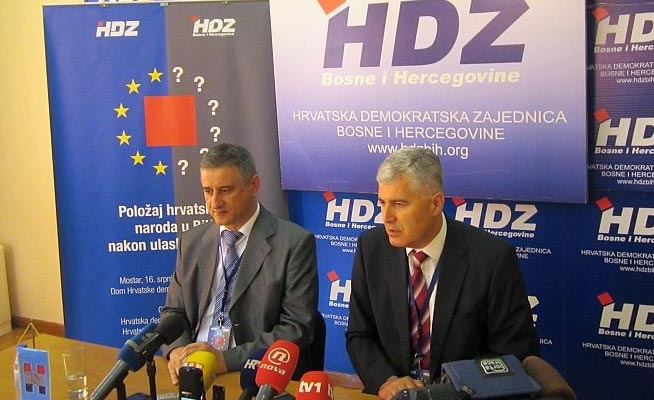 By Nevena Šarenac – Sarajevo
On the premises of the Croatian Democratic Union (HDZ) BiH in Mostar a one-day conference was held today on the topic "Position of Croatian People in BiH after the entry of Croatia to the EU", which is jointly organized by HDZ BiH and HDZ Croatia.
The conference was attended by a large number of high-ranking members of these parties with their leaders Dragan Čović and Tomislav Karamarko.
"After the accession of Croatia to the EU Zagreb must be more strongly engaged in resolving the Croatian question in BiH'', said Tomislav Karamarko, President of HDZ Croatia.
This, according to him, does not mean interfering in other countries, but on the contrary, Croatia support agreements of the three constituent peoples, but not two agreements at the expense of the third.
"We are the same people. It is not easy to watch how our people here lack rights and how they are not able to elect their member to the Presidency, and they cannot influence some processes. BiH is our country, as well as Croatia. We are constituent peoples here and we lay claim to this. We have to struggle together. Zagreb has to be more active when it comes to BiH and on the problems that our country people have in BiH'', said Karamarko.
Karamarko said that it is in the interest of HDZ of Croatia for BiH to Europeanize as soon as possible and that 'eastern borders of Croatia cover the EU''. In BiH, he said that there are many mature politicians from all political parties in BiH and BiH has clear ambitions to become a member of the EU.
"If this is wanted, then some standards have to be adopted. According to that, there can be no marginalization of the Croatian people. I am announcing here our bigger engagement, now when we have entered the EU, and we are definitely making ourselves available. We are a sister party and we have to have a strategy and tactic in order to achieve equality of the Croatian people in BiH'', said the leader of HDZ from Croatia.
Dragan Čović, President of HDZ BiH and host of the conference, said that Mostar and Zagreb HDZ wish to open another resolution to the Croatian question in BiH and as key to the normal functioning of BiH and Euro Atlantic projects.
He reiterated that his party's proposal, which supports the Croatian National Assembly, is four federal and territorial units.
"This is one way where we see equality, and we will support all other solutions that ensure the Euro Atlantic path of a strong BiH, in which all three people are institutionally equal'', said Čović, who added that he believes that all sides understand 'that until this issue is solved we will not have a normal BiH''.