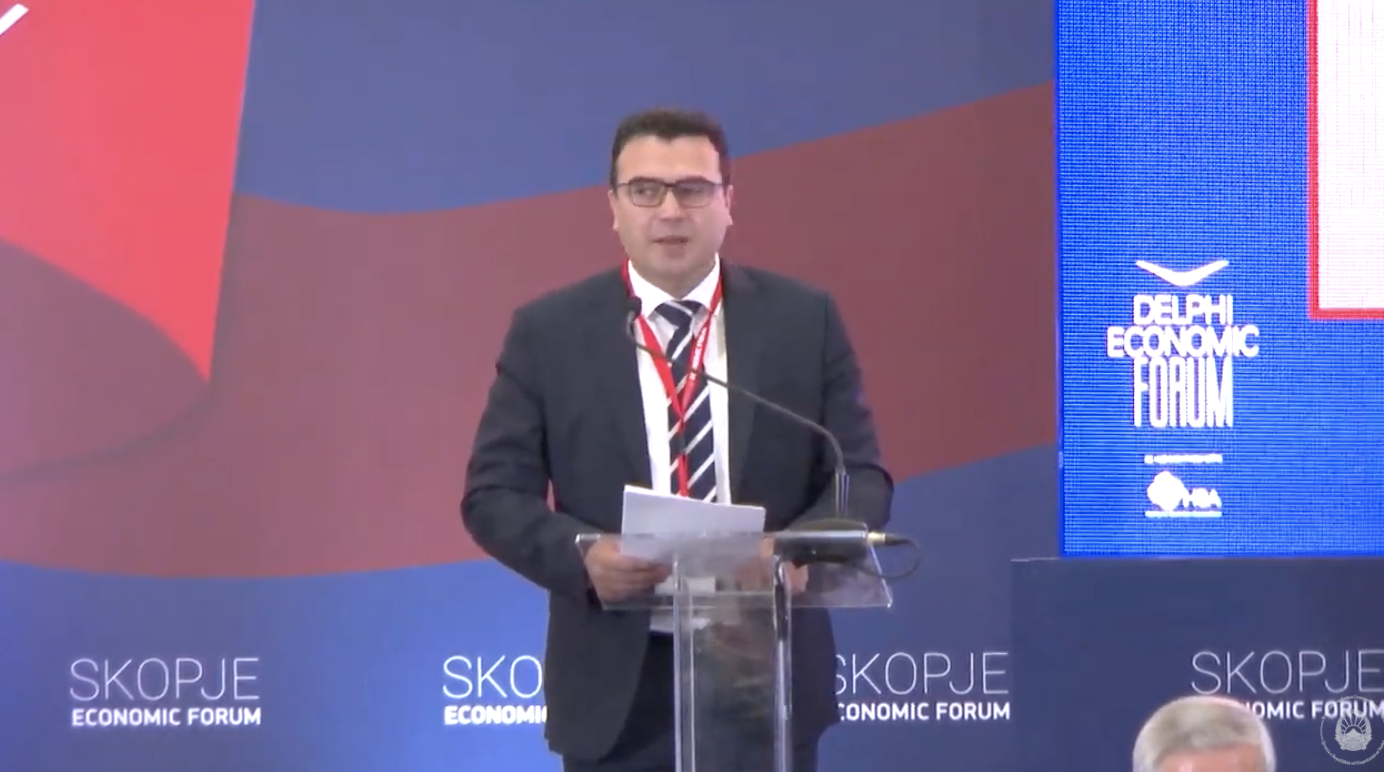 North Macedonia cultivates European values, demonstrates European manners, political will and builds good neighborly relations necessary for economic prosperity and a better role model for its citizens. I am sending the same message from the Delphi Summit in Athens and from here from Skopje. "We need economically prosperous Balkans in the 21st century, integrated into the EU. Today, I would add, the Balkans live in the present and build a prosperous future, and the past is a lesson where divisions and turmoil lead nowhere," said the Prime Minister of Northern Macedonia Zoran Zaev at the opening of the first Economic Forum in Skopje.
"We have the support of Greece in our European course, and NATO membership means confidence, security and an excellent opportunity for economic growth," Zaev said.
"Our country meets all the conditions for the start of negotiations for EU accession chapters, which is unconditionally confirmed by the European Commission, as well as by the vast majority of 26 of the 27 Member States. "I want to thank all the EU Member States for their unwavering support in starting this process during the current Presidency, with Portugal or the next Presidency with Slovenia," said Zaev, expressing gratitude for the continued support from the United States.
At the first economic forum in Skopje, Zaev said, I want to send a message to investors to take advantage of the opportunities and invest their funds in Northern Macedonia.
"The government is creating a favorable business environment and equal conditions for domestic and foreign investors. The national economy is stable and growing. "We have achieved high growth for all investors with total production from free zones reaching 3.4 billion euros in 2020. Investments represent 46% of total exports nationally and almost 8% of national GDP," said Zaev.
The benefits of investing in industrial development zones, Zaev said, are recognized by all investors except low taxes of 10 percent, as well as some tax breaks for profits of up to ten years.
The founder and President of the Delphi Economic Forum Symeon G. Tsomokos said at the beginning that the main goal is to unite political and business leaders from the region in one place, where they will discuss in a constructive and fruitful way on the political progress of Southeast Europe.
The President of the Hellenic Association of Businesses in North Macedonia, Aris Vlachos, stated that Greek companies in recent years have contributed to the economic development of the country, investing in key sectors, such as the energy and banking sectors, industry and trade.
"Greek investors today have a syndicated capital of five thousand million euros and create about 25 thousand new jobs. "We would like to see this trend grow, as well as more regional co-operation and investment initiatives that will boost the country's development," Vlachos said.
The Skopje Economic Forum entitled "A New Dawn: Laying the Foundations of Stability and Prosperity" is an initiative of the Delphi Economic Forum in co-operation with the Hellenic Business Association in North Macedonia./ibna