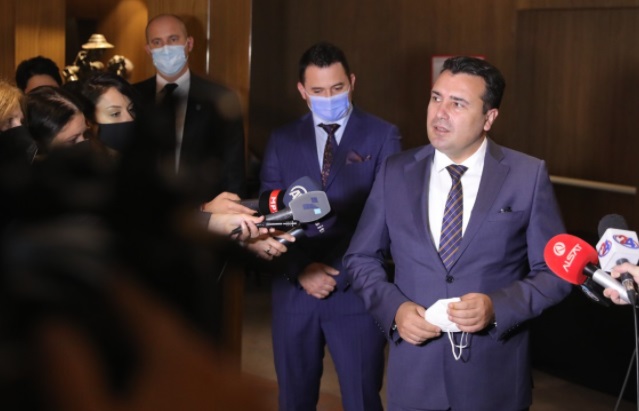 The Republic of North Macedonia is everything necessary to reach a solution to the pending issues with Sofia, Prime Minister Zoran Zaev said today, noting that Bulgaria is a great friend of the country and he believes it will remain on that line.
"As I said, we are not far from an agreement. We just have to have good will, remain positive and have a predictable future ahead of us. I believe this will happen until the second EU Council of Ministers at 8, 9 or 10 at any time, until I meet with Prime Minister Boyko Borissov, and I believe that our working groups that remain in constant contact will create an atmosphere in that direction, and I'm speaking for both sides".
Answering a journalist's question regarding the content of discussions with Bulgaria, Zaev pointed out that there is no talk of concessions, but of solutions for both sides.
"We are not talking about concessions. We are talking about solutions on both sides. There are ways to resolve this. Of course, I emphasize once again, I am glad that Bulgaria recognizes the Macedonian language and the Macedonian identity as our reality, and I believe that through these formulations solutions will indeed be found; because solutions do exist, of course by observing each each other as stakeholders of the agreements, we the Bulgarian side and the Bulgarian side us. Friends do that and I believe we will show once again that we are wonderful friends", said the Prime Minister of North Macedonia.
Regarding the reactions of the business community to the claims that the business relationship between North Macedonia and Bulgaria is to the detriment of politics, Zaev pointed out that business relations between the two countries are excellent.
"As everything is restricted around the world, they can also be strained. The Chamber of North Macedonia and Bulgaria preserves excellent cooperation on both sides. In the last year, although it is a COVID year, most months we have 12-13 new Bulgarian investments and two from North Macedonia to Bulgaria, at least according to my office, which is really rare. They definitely appear in different types of activities. I am sorry that trade has declined everywhere, so it has declined bilaterally between the two countries as well, but the prospects are great. Let it be just an incentive for politics to find ways to solve political issues, so that economies can work together, provide jobs, raise wages, generate profits for businesses and thus benefit Macedonians and Bulgarians", said the Prime Minister of North Macedonia Zoran Zaev. /ibna