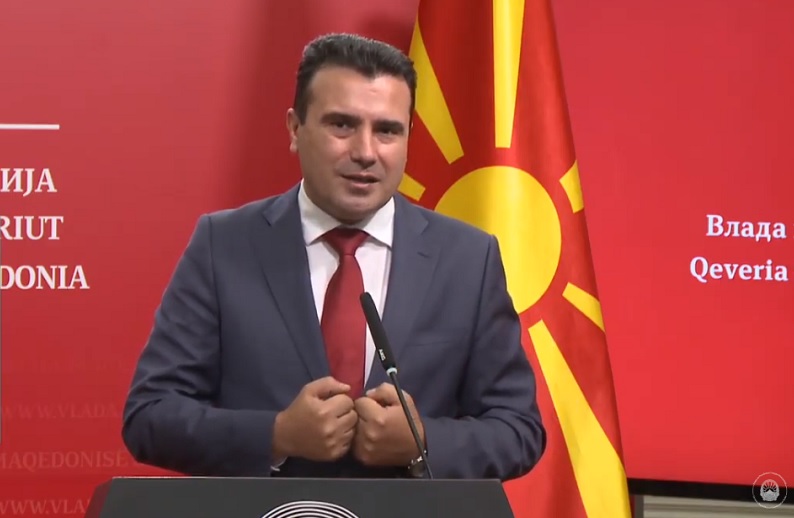 We know that talks with the Republic of Bulgaria must continue regardless of the outcome of the forthcoming Council of Ministers. Problems need to be resolved, including the one that emerged recently, Prime Minister Zoran Zaev said, adding that efforts are being made these days to find a solution.
The agreements with Greece and Bulgaria must be implemented. In this regard, Buckovski should be the motivator for the implementation of the agreements. Talks with Bulgaria are being chaired by the Foreign Ministry, meaning Bujar Osmani, and include Deputy Prime Minister Nikola Dimitrov. Of course, my cabinet is also here, but so is NATO Ambassador Dane Talevski. Efforts are being made these days to find a solution. We have prepared citizens for the possibility that the negotiating framework will not be adopted, and therefore we will not start negotiations. However, our strategy remains that we have to keep talking and we will do our best until the end," Zaev said.
Zaev believes that Buckovski, as a special envoy, will work on an action plan to improve the implementation of the Agreement with Bulgaria, which will help strengthen the friendship. Zaev revealed that the plan includes faster construction of Corridor 8, cooperation in the fields of energy, education, health and more.
The Prime Minister reiterated that the protection of national interests is always welcomed, but guarantees that identity and language are not negotiable, as they embody the right to self-determination. He estimated that, at today's meeting of the Committee on Historical Issues, progress was made and that during the academic year 2021/2022 everything agreed in the Committee on Historical Issues will begin to be applied to textbooks.
Buckovski, the newly appointed representative for Bulgaria, has already left for Bulgaria and the length of his visit could not be estimated, according to Zaev.
The European Socialists supported Zaev
Disappointment is the word the Party of European Socialists and Democrats (PES) used to describe Bulgaria's veto on North Macedonia's European course, supporting parallelly Prime Minister Zoran Zaev and calling for political wisdom by both Skopje and Sofia, stressing that the constructive dialogue must emerge victorious.
"The political wisdom of both countries has been tested – only the language of cooperation and a full understanding of the long-term prospects in the region can successfully overcome this obstacle. The European Socialists and Democrats have always been supporters of the enlargement process for the Western Balkans. The Euro-Socialists welcomed the European Council's approval of the opening of accession negotiations with North Macedonia and Albania in March this year, as well as of the draft negotiating framework submitted to the Member States in July. Today, the PSE wishes to express the hope that a fair and in-depth dialogue between Bulgaria, which has been an EU member for 13 years, and North Macedonia, which has strongly expressed its desire to join the Union, will be resolved in the benefit of both countries. /ibna