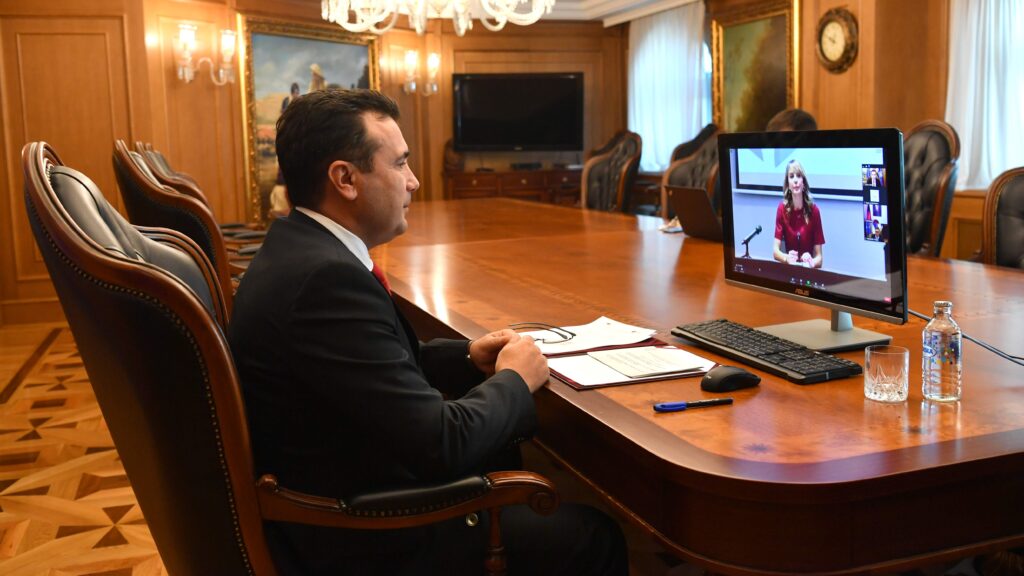 Prime Minister of North Macedonia Zoran Zaev attended today the regional forum for new leaders organized by the European Movement in Serbia from Novi Sad, focusing on regional economic cooperation with special emphasis on solutions for connecting countries amid pandemic conditions, as announced by the government press service.
During the discussion also attended by President of Serbia Aleksandar Vucic and Prime Minister of Albania Edi Rama, Zoran Zaev stressed that, now more than ever, the coronavirus pandemic showed that everything in the region is connected to one system – infrastructure, economy, environmental systems, even political systems. Such crises, he pointed out, are a test of the state in a society, that highlights its weaknesses and strengths.
"In times of crisis, our countries are cooperating, and we remain in constant communication with each other. Coordinated responses to the biggest challenges we face also have benefits. We have strengthened the existing cooperation, we have shown a high degree of solidarity and decision-making ability for the citizens of our countries. Young people need to be part of these processes. We need their creativity, we need their energy and their ability to see obstacles as opportunities, because in them we place all hope that they will be able to complete all the integration processes we started several decades ago", Zaev said.
Prime Minister Zaef stressed that educating and increasing the skills of young people is crucial for further progress.
"We are witnessing increased migration and we must see it as a two-way street. We want and create opportunities for those who have left to return, to be able to use the new skills they have learned in their country. Free movement of people is a cultural benefit that we must constantly cultivate", said Prime Minister Zaev.
The discussion ended with the presentation of the common conclusions that the three leaders discussed in a tripartite meeting last Friday as part of the renewed regional cooperation initiative.
This year, North Macedonia, along with Bulgaria, is co-chairing the Berlin Process, which will follow next week.
"We are building a partnership through which we discuss, promote and ultimately unite around positions where we have a common interest as a region under the Berlin Process", Vucic, Rama and Zaev stated in their shared message was to young people, as the government press service of North Macedonia announced. /ibna