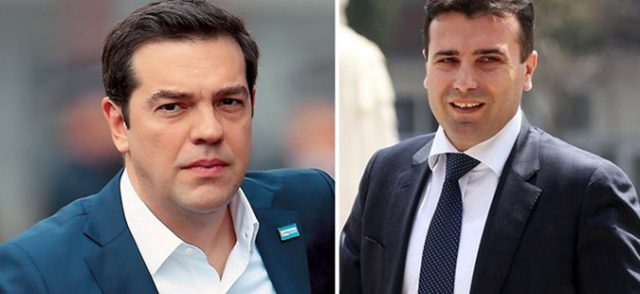 With a narrow time frame ahead of them for the solution of the name issue and NATO's Secretary General, Jens Soltenberg's clear cut position that without a solution, fYROMacedonia will not receive an accession invitation, Zoran Zaev is pressing for a meeting with Alexis Tsipras, in Davos.
According to IBNA's exclusive information, the agenda of the Greek Prime Minister, includes a meeting with his counterpart, but with a question mark at the end, which means that nothing is certain yet, at least not until this article was written.
Alexis Tsipras believes that the opportunity to resolve the issue should not be lost, as he repeated in an interview with (this Sunday's edition) newspaper "The Nation". However, this does not mean that there is no expectation of goodwill on the part of Skopje.
Amid consultations and the filing of the proposals by the United Nations Special Envoy Matthew Nimetz for a commonly accepted name, it is not certain that a meeting of the two Prime Ministers can help. After all, it is not a rare event for leaders to meet, especially if an agreement, over a dispute, has been reached, to countersign it.
Foreign Ministers, Nikos Kotzias and Nikola Dimitrov, while UN consultations are going on, have decided to take a more active role in discussions, so as to overcome the name dispute. A meeting of the two Prime Ministers in Davos may "cancel" the efforts of the two Foreign ministers, as consultations are upgraded to  a level of leaders.
This upgrading of the talks may be serving Zoran Zaev's interests, but this is not the case for the Greek Prime Minister, as he will be personally charged with a possible failure in the consultations.
It is no coincidence that the announcement about  v the meeting in Davos was made public by Zoran Zaev, without any confirmation from the Greek side. A similar effort had been made in mid-December when he leaked a meeting with Alexis Tsipras during Christmas holidays, something that did not happen.
What causes skepticism to the Greek side, is the lack of goodwill movements on the part of the Skopje government, as they consider that there is an attempt to include in their negotiating arguments both the deletion of their airport name, as well as those of the roads (even national road arteries) and the removal of statues of irredentist character that have been decorating the city of Skopje…/IBNA