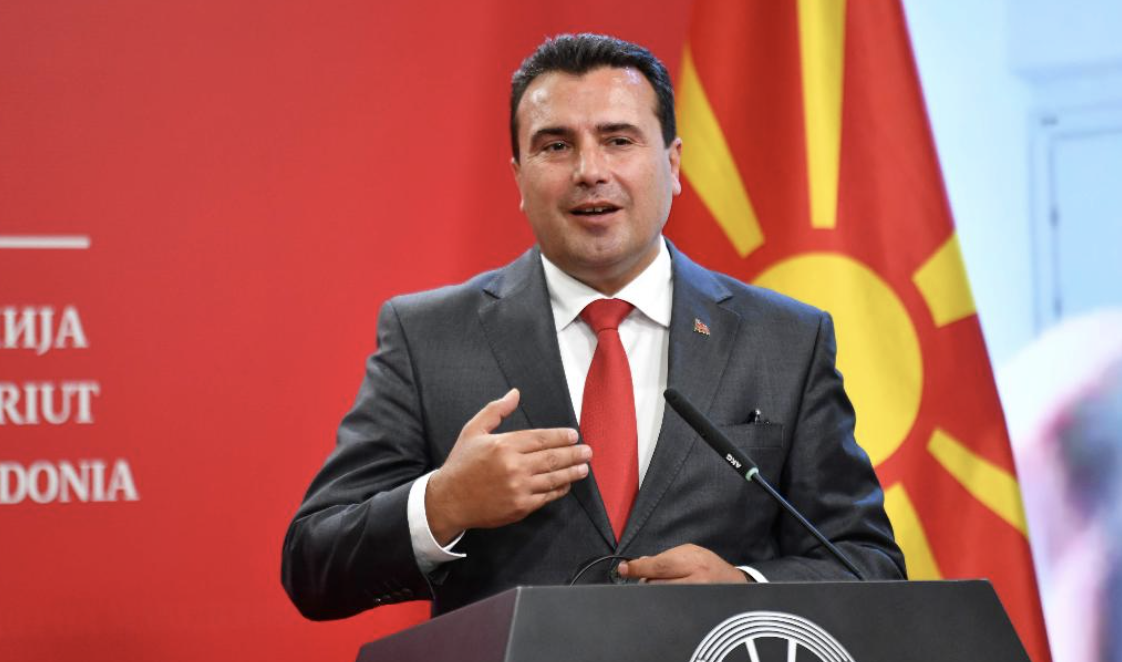 Zoran Zaev, asked to answer relevant, persistent journalistic questions today, systematically avoided repeating what he said on Monday, namely that he would resign as prime minister of the country if the Social Democratic Party (SDSM), which he leads, is defeated in the second round of the municipal elections in the Skopje Metropolitan Municipality.
Zaev, responding to a flurry of questions from journalists on whether he would resign as prime minister if his party's candidate for Skopje Metropolitan Municipality, Petre Silegov, loses Sunday's election, said:
"I confirm that I am a fighter. I am here, I have fought, I am fighting and I will continue to fight, but I need support from the people because local government, the Skopje Municipality, are very important for the everyday life of citizens and the everyday life of the country itself, especially now with the enhanced powers that local government will gain with the third phase of decentralization."
Asked if the scenario eventually happens and he resigns as prime minister, who will replace him, Zaev refrained from answering and once again urged people to go to the polls on Sunday and fight for a "progressive future".
Yesterday, the ruling Social Democratic Party (SDSM) claimed that the opposition candidate for the Skopje Metropolitan Municipality, Danela Arsovska, has held Bulgarian citizenship since 2011, even presenting a document from the Bulgarian authorities.
Today, at a press conference, SDSM claimed that Arsovska also obtained a Bulgarian police identity card in 2017, even presenting a photocopy of her identity card on a screen. The photocopy shows Arsovska's photo, while her address in Bulgaria is listed as the town of Petric.
Zoran Zaev, in an interview this morning with an online media outlet in Skopje, said that there was no doubt that Arsovska also holds Bulgarian citizenship and that he expected her to withdraw her candidacy for the Skopje municipality.
"I maintain that Danela Arsovska is also a Bulgarian citizen. There is nothing wrong here, but the problem is political, moral, dishonest. You must tell your fellow citizens. I believe that the citizens of Skopje will not allow themselves to be manipulated. In life, if you decide to be a representative of a foreign country, then you do it. You cannot be a representative of a foreign state and claim a high-ranking office. I expect Arsovska to withdraw immediately if she has any love for Skopje and the citizens of the country's capital. This is a humiliation," Zoran Zaev said.
Danela Arsovska today denied allegations by the Socialist Party that she also holds Bulgarian citizenship and announced that she would take legal action against those who spread such unsubstantiated allegations.
"I completely deny these allegations and I have to say that not only the citizens of Skopje, but also the whole of Macedonia knows and believes that those who sold out Macedonian national interests, now, a few days before the elections, are coming out with such unsubstantiated claims to hurt me," Arsofska said.
The allegations of Danela Arsovska obtaining Bulgarian citizenship come just days before the crucial second round of the municipal elections in North Macedonia to be held on Sunday, October 31, with VMRO-DPMNE-backed Arsovksa leading the SDSM candidate./ibna
Source: skopjenews