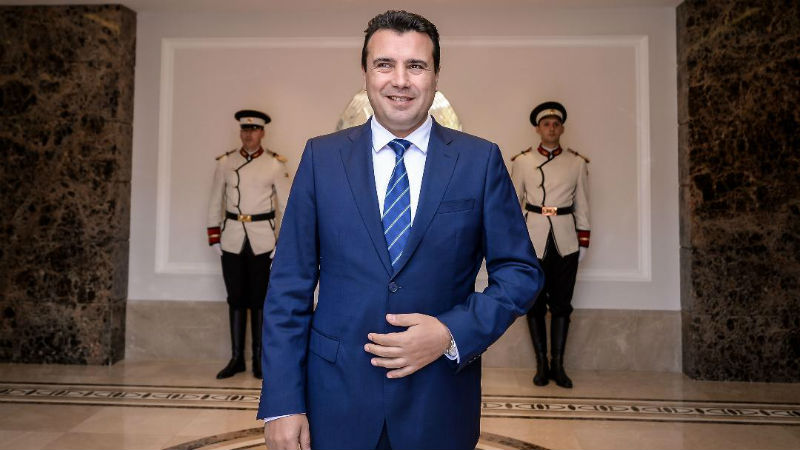 Piše: IBNA Newsroom
Ovo je veliki, istorijski dan za sve naše građane. Danas nam je najveća svetska bezbednosna alijansa, NATO, izrazila dobrodošlicu. Sedili smo za istim stolom, rame uz rame, sa našim saveznicima, napisao je premijer Zoran Zaev na svojoj Facebook stranici nakon što je Alijansa potpisala Protokol o pristupanju Makedonije.
"Srećni smo, i to s pravom, jer smo osigurali trajnu stabilnost za našu zemlju. Obezbedili smo bezbednost, sigurnost i mir.
"Napredak i razvoj se sada ne mogu zaustaviti. Naši savremenici i deca naših savremenika će živeti bolje, u zemlji i regionu koji zrači nadom.
"Čestitam svima nama, hajde da budemo ponosni," izjavio je premijer Zaev na svojoj Facebook stranici.
Svečanost u sjedištu NATO-a u Briselu održana je u prisustvu ministra vanjskih poslova, Nikole Dimitrova, koji je sletio u glavni grad Belgije direktnim letom iz Vašingtona, gdje je bio u dvodnevnoj poseti.
Otvarajući ceremoniju, generalni sekretar NATO-a, Jens Stoltenberg, rekaoje da je ovo "istorijski događaj" za ovu zemlju. Premijeri Zoran Zaev i Alekis Tsipras pokazali su veliku hrabrost kada su prošle godine potpisali Sporazum iz Prespe. Kroz posvećenost rešavanju ovog dugogodišnjeg neslaganja, Atina i Skoplje su, prema njegovim rečima, pokazali vitalni doprinos regionalnoj bezbednosti i stabilnosti.
"Ovo nije bio lak put, bilo je izazova i teških kompromisa. Dugo smo čekali da se pridružite našoj porodici. Godinama ste doprinosili NATO operacijama i radili smo na reformama koje su vas pripremile da postanete 30. članica NATO-a. Potpisivanje protokola za pristupanje označava početak procesa ratifikacije. Uveren sam da će se ovaj proces odvijati glatko i da ćemo uskoro moći da vas pozdravimo kao punopravnog člana, rekao je Stoltenberg.
Od danas, dodao je on, predstavnici BJRMakedonije će se pridružiti drugim predstavnicima NATO-a za stolom, gde će na sastancima biti predstavljeni kao pozvani da se pridruže NATO-u.
Mi, istakao je Stoltenberg, očekujemo da ćete nastaviti da sprovodite reforme kako biste povećali doprinos vaše zemlje savezu. Sa svoje strane, NATO će nastaviti da vam pruža podršku i pomoć.
Govoreći na svečanosti, ministar Dimitrov je izjavio da će zemlja nakon stupanja na snagu ustavnih promena postati Severna Makedonija. "Ovo je bio dug put koji smo započeli pre mnogo godina sa devet drugih zemalja. Ispunili smo strateški cilj – ulazak u NATO. To je rezultat napornog rada mnogih generacija i zalog naše generacije," izjavio je on.
Prema njegovim riječima, to nije bilo lako postići. Međutim, dodao je Dimitrov, ova generacija je to postigla sporazumom premijera Zaeva i Ciprasa, kao i uz podršku premijera Bugarske Boika Borissova te potpisivanjem ugovora o prijateljstvu.
"Za nas članstvo u NATO-u znači prelazak na stranu bezbednosti, to je pitanje bezbednosti, stabilnosti, vrednosti i građanskih sloboda," rekao je minist