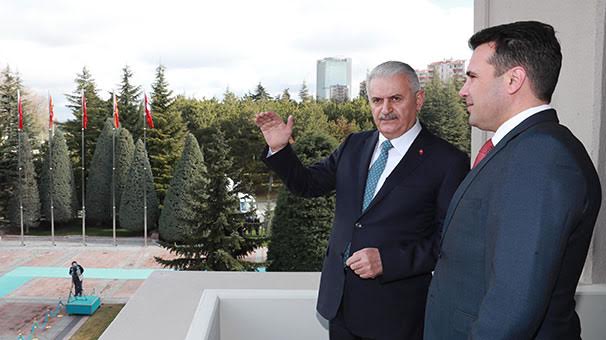 "Here is your home; this is how I would like you to consider it. And I hope that our contacts will further improve the Turkey-Macedonia relations ", Turkey's prime minister Binali Yildirim said addressing the his fYROMacedonian counterpart Zoran Zaev. 
The two men met for 1,5 hours and discussed issues such as the NATO accession course of Skopje, bilateral financial ties and the relations between fYROMacedonia with Greece.
Yildirim offered his support to Zaev over the name issue, specifically saying: "The name of a country is to be decided by the country itself. Having another country defining is wrong. Nevertheless, we do hope these issues are resolved through dialogue. We (Turkey) too have open issues with Greece over which we are disagree but we choose to solve through dialogue."
 Zaev's next stop after the Çankaya Mansion where he met with Yildirim, he met Recep Tayyip Erdogan at the presidential mansion, for nearly an hour. Their get together was a private one with no post-meeting announcement on the agenda of their talk.
Before his arrival in Turkey – The name issue between Skopje and Athens
In an interview with the Turkish state-run news agency Anadolu, before getting to Turkey, Zoran Zaev had stressed that "Turkey is among our best friends and during my visit we will try to further improve our top-notch relations."
The fYROMacedonian premier spoke also about his country's relations with Greece as well as about the name issue. "The name issue is an important problem between Macedonia and Greece. Macedonia is asking for the support of UN countries, NATO and the EU. When we reach a solution, and we will reach one, we must all support it. This is important for Macedonia and its citizens. As it is for the Greek side, too. This is not a temporary issue but an ages-long problem."
According to Zaev, "there can be a final solution until May. We all want to see this resolved by the end of May as in June, it will be decided whether our country will be eligible to receive a date for the beginning of negotiations regarding its accession course. In July there will be the NATO summit. What we aim at is to get the invitation automatically re-confirmed at the summit. If we manage to resolve the issue by that time, it will be positive. But, even if this happens in August, September or October it will not be a problem -given we have received the official and formal NATO invitation."
Turkey – fYROMacedonia
Turkey is one of the most significant investors in fYROMacedonia. Ever since 2011, the "Alexander the Great" airport which will be re-named, is functioning under the Turkish company TAV's management, that has all managerial rights until 2030.
At the same time, the Turkish Religious Foundation ( Turk Diyanet Vakfi) is funding the construction of the biggest mosque in fYROMacedonia, that will be called "Tophane Cami", and is expected to be ready in 2020. A few days earlier, the Turkish ambassador to Skopje visited the spot where the mosque will be built…/IBNA