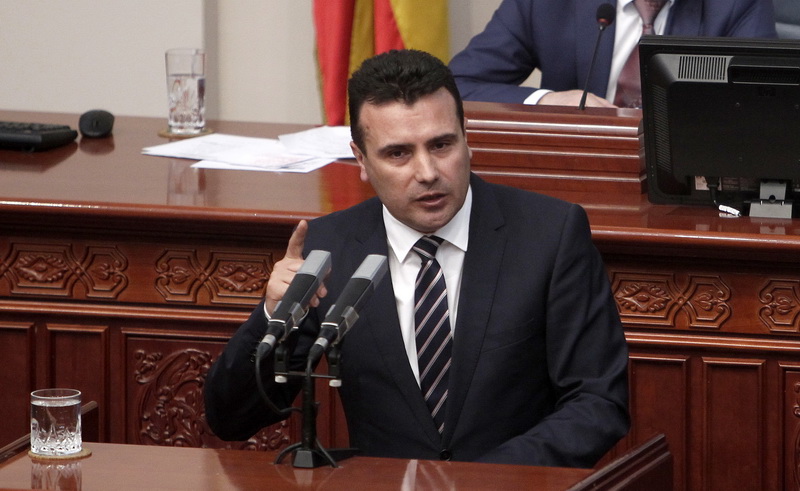 Prime Minister Zoran Zaev is trying to persuade more MP to support constitutional amendments, but said that until the day of voting is not clear if there will be two thirds of majority. Tomorrow he will begin talks with two smaller opposition parties of Albanians, Besa and Alliance of Albanians to get votes of their four MP in favor of Prespa Agreement. But those parties have their own draft amendments considering Constitution for the Albanian language, Ohrid Framework Agreement and Preamble. Previously, Zaev refused those proposals saying that it will mean opening Pandora box.
" I'll do my best to ensure a two-thirds majority for supporting the constitutional amendments, which are to enter a parliamentary procedure on January 9", Prime Minister Zoran Zaev told reporters on Thursday.
The session is scheduled for January 9 and will most likely last for two-three days, as the MPS of opposition VMRO-DPMNE said that they would not attend. Although, there are expectations that some MPs from VMRO-DPMNE could vote for the amendments, at least four of them.
Zaev voiced optimism that the entire process for endorsement of the constitutional amendments, deriving from the Prespa Agreement with Greece, would be successfully wrapped up by January 15 at latest.
'However it is up to each and every MP. I wish for more than 80 MPs to vote in favor of the amendments and deem it realistic. I am aware of the MPs' positions, including the one of the opposition leader – but there is always a problem with the political calculations. I am also certain that my friend, Greece's PM Alexis Tsipras, will ensure the necessary parliamentary majority for ratification of the Prespa Agreement,' Zaev said.
PM Zaev also voiced belief that Greece would be the first country to ratify the NATO Accession Protocol for Macedonia.
"NATO plays no role in the implementation of the Prespa Agreement, an Alliance's official told MIA on Thursday with regard to the report of Greek daily Kathimerini that Secretary General Jens Stoltenberg sent a letter to both Skopje and Athens, calling for the deal to be approved in both parliaments by 15 February 2019.
'NATO has made clear that we welcome the Prespa Agreement, and it is up to Athens and Skopje to implement the agreement. We do not comment on the Secretary General's correspondence, but let me repeat that NATO plays no role in the implementation of the Prespa agreement, which is entirely up to Athens and Skopje,' the NATO official said to MIA in written statement./IBNA