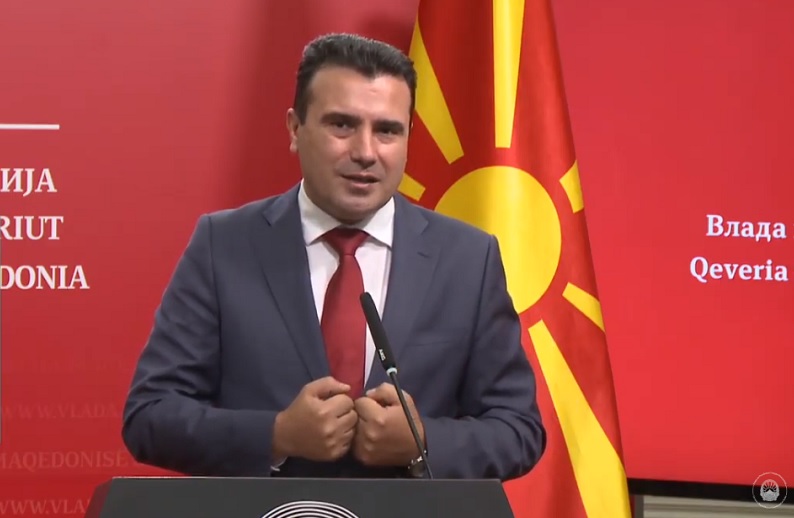 The Prime Minister of North Macedonia commented on the news that saw the light of day for their assassination attempt in 2018.
I will not comment such information or allegations. Whenever there were challenges in that area the security services did their job extremely professionally and with success. I have no additional comment on the topic, says Zaev in a statement after contacting IBNA.
The publication:
The Greek secret services and the government in that country prevented an assassination attempt on the leader of North Macedonia, Zoran Zaev, a few months after the signing of the Prespes Agreement in the summer of 2018, and before the parliament voted to change the constitution by 80 votes.
This was revealed to the Greek media by "Vradini" with a source from the "deep core" of the then Foreign Ministry, who was also an informal liaison with the intelligence services and the Ministry of Defence and who played an important role in the whole affair.
According to the source, following the ratification of the Prespes Agreement by the North Macedonian parliament with 69 votes on 20 June (the agreement was signed on 12 June in the village of Psarades in Florina, Prespes), political tension reached its peak in the country. The opposition party VMRO-DPMNE, led by Mickovski (who replaced Gruevski but was considered a crony at the time), polarised the atmosphere to a dangerous level in a country where assassination attempts were not unknown.
Powerful Macedonian organisations in Australia and Canada financed the reactions in Skopje and provided funds to 'secure' votes.
The Greek secret services informed the then Prime Minister Alexis Tsipras that there was intensive mobilization against Zaev in Macedonia. At the same time, the US services believed that "forces with an interest in not signing the agreement will try to prevent the Parliament from changing the country's constitution", but they did not know the depth of this resistance. Shortly afterwards, Russian diplomats were expelled from Athens.
The Americans interrupted talks between leaders of Nikola Gruevski's circle in Hungary, which documented the mobilization around the effort to prevent the constitution change, and those with representatives of migration organizations. The effort was financed by some foreign organisations and planned by intelligence officers from third countries, who appear in Macedonia either as commercial agents or media directors.
The Greek intelligence services inform the Ministry of Foreign Affairs that "an aggressive action against Zoran Zaev is imminent", with no evidence leading to anything more concrete.
– The Americans are receiving discreet protection of the Skopje Prime Minister and are sending messages to foreign embassies and the VMRO-DPMNE that they "know". In those months, Zaev had the same protection as the American president, which was obvious even to the ignorant, and which discouraged any thought of aggressive action, the Greek media write.
The assessment of the source who conveyed the information to Vravini is that from the moment the constitutional change was passed, there was an underground consultation between the US and the persecuted and accused Nikola Gruevski and the embassy of a powerful country, where it was said that they would be held accountable for any "accident" of Zaev. But even today, Zaev's protection is a sign of the fear of the Prime Minister, who remembers the fate of Gligorov, who miraculously escaped death in 1995./ibna