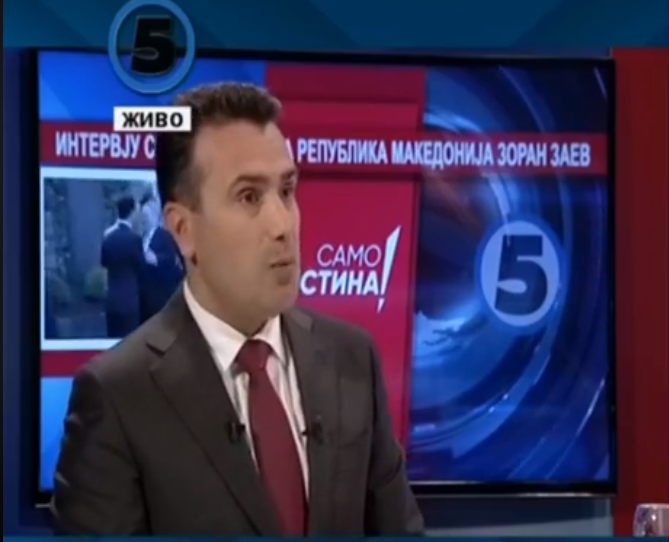 Prime Minister Zoran Zaev, in an interview with Skopje TV channel 5, said that in the 2012-2013 negotiations, Nikola Gruevski and VMRO-DPMNE had accepted the terms Upper and Northern Macedonia for "erga omnes" use.
"This is not the first time that an erga omnes geographic name has been accepted", said Zoran Zaev in this interview.
"Nikola Gruevski had accepted Northern and Upper Macedonia in 2012 and 2013, but without identifying it. Greece rejected this agreement due to the provocation of the Skopje 2014 project. This was the case in the negotiations and I am saying it for the first time", Zoran Zaev said, to comment in the end that he never published this "bomb", in order not to hurt the negotiating position of fYROMacedonia.
Gruevski's reaction
The reaction of former Prime Minister and leader of VMRO-DPMNE Nikola Gruevski was immediate, with a post on social media where he denies the revelations of Zaev.
"Myself and VMRO-DPMNE did not change the name and identity for 11 years. He accepted the change of name and "erga omnes", altering the Constitution, which undoubtedly affects the identity", Gruevski says, describing the Agreement as a National Disaster.
Finally, he attacks Zoran Zaev for the concessions he made to the Greek side in the Agreement, noting that "only the name of the highway was bothered the Greeks".
Tomorrow afternoon the vote in Parliament
At 11:00 am (local time), as IBNA first wrote, will take place the Parliamentary vote for the ratification of the Agreement between fYROM and Greece on the nomenclature.
Subsequently, the ratification of the Agreement will be given to President Gjorge Ivanov to sign it. However, as he has said, he will not accept it and return it to the House for a re-vote. The period he has the right to keep it before returning to Parliament again for a second vote is seven days. If the Agreement successfully passes from the House a second time, the President has no right to reject it in accordance with the constitution of the country.
Based on what has transpired, President Ivanov will follow the same practice by holding in his office the decision to ratify the Agreement, as he did with the Albanian language law. This, of course, will not prevent the government of Zoran Zaev, as government sources say, to continue working to complete the commitments of the Agreement and to procced with the referendum on the name change, which is expected to take place in early autumn./IBNA