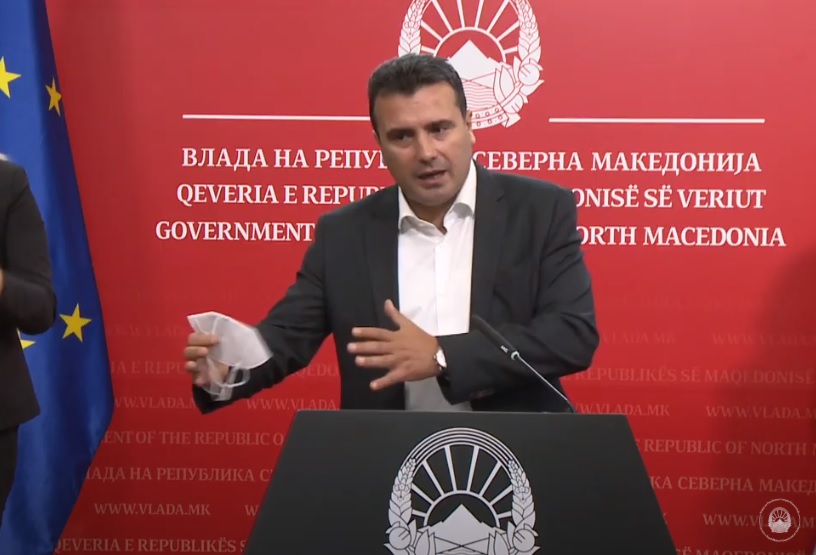 Asked by a journalist whether he personally believed Goce Delchev was Macedonian or Bulgarian, the Prime Minister of North Macedonia Zoran Zaev, following a meeting with EU Ambassador David Geer, said that Goce Delchev is a Macedonian revolutionary, but it is also a fact that Bulgaria and the Bulgarians consider him a Bulgarian revolutionary.
"Goce Delchev is a Macedonian revolutionary, but it is also a fact that Bulgaria and the Bulgarians also consider him a Bulgarian revolutionary. The fact is that we have our city called Delchevo, in Bulgaria there is a city Goce Delchev, we have monuments in North Macedonia and Bulgaria. Together with Prime Minister Borissov, we honored the Goche Delchev monument in Blagoevgrad, but also together we honored him at the tomb of Goce Delchev here in Skopje, and that is the reality and the facts", Zaev said.
He reiterated the view that through historical figures we must find a basis to build even greater friendship and cooperation between the two countries and the two peoples, and that it is not good for the European future of the Balkans and the region of Southeastern Europe to avoid historic moments and shove them "under the rug".
"That is why we have good neighborly and cooperation agreements, so that in the future we can resolve these issues that should unite us, which will refer to our common history as something that was sacred to the citizens who lived at that time, specifically in the late 19th and early 20th centuries, when the revolutionaries here fought for social rights, for freedom", Zaev said.
He announced that his first official visit as prime minister of the new government is expected to be in Bulgaria, where they will discuss with Prime Minister Boyko Borissov about Goce Delchev. Zaev expects the visit to take place before the scheduled Berlin Process on November 10th, chaired by North Macedonia and Bulgaria.
"We expect a meeting next season, no later than November 10. Of course, I want to visit the Republic of Bulgaria and it will be my first official visit as Prime Minister, because we really have questions for talks, and that is exactly the question for this next historical chapter, Goce Delchev as a historical figure and this historical period. The Berlin process, co-hosted by Bulgaria, is expected to take place on November 10-11 in Sofia. We expect to receive comments from Bulgaria these days so that we can discuss the preparation of the Berlin process, of course on this open issue as well",, Zaev said.
He also noted that it is good that the Joint Committee on Historical and Educational Issues is working to find a common solution, expressing his belief that it will offer options and initiatives to resolve the problem.
"In general, our expectation is to sit down as soon as possible to find solutions to this issue, to prepare it and to be really excellent in organizing the Berlin process. I say exceptional in the constellation of the ongoing COVID-19 crisis, but of course I expect the first intergovernmental conference to take place by the end of the year", said Zaev. /ibna