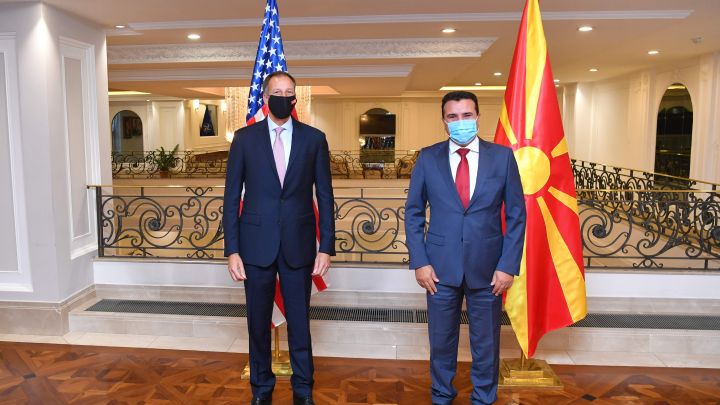 North Macedonian Prime Minister Zoran Zaev met today with US Deputy Assistant Secretary of Energy and Resources Francis Fannon, with whom he gave a joint press conference.
"From a country that was last, isolated and with a marginal energy course, and which was in a situation of dependence on a single corridor, today, North Macedonia is a country integrated in energy projects and participates in energy connectivity initiatives that open wide prospects for rapid economic growth", said Prime Minister of North Macedonia Zoran Zaev during a press conference alongside the US Assistant Secretary of Energy and Resources, which took place immediately after their bilateral meeting, during which the US support for regional energy cooperation as an important part of the priorities of North Macedonia's energy strategy was discussed, which leads to concrete measures and projects regarding the cross-border connection with Greece and other countries of the Western Balkans.
During the press conference, it was stressed that, with the support of the United States of America as a strategic partner and a NATO ally, in the next period, North Macedonia would accelerate and kick off various energy projects of special importance for the country and the region and that, as a country striving for energy independence, the connection of energy corridors through Bulgaria and Greece is of substantial and long-term interest.
"During my visit to Athens two weeks ago, we received support from the Gastrade consortium for the participation of North Macedonia in the construction of a liquefied natural gas terminal near Alexandroupolis, Greece", Zaev said. He added that "this project opens an opportunity for a permanent and stable supply of natural gas for our country, which, at the same time, will become a point from which gas will be distributed in the region and in countries that will show interest".
"We also discussed with Energy Minister Fannon the importance of supporting the gas interconnection with Greece", Zaev said, adding that this would provide another opportunity for gas supplies from Azerbaijan and, at the same time, the possibility of connecting the LNG terminal to Greece for a stable and continuous gas supply, as well as of independence and competitive prices, objectives which are in line with our long-term energy strategy".
In the joint press conference, Zaev and Fannon also briefed on the initiative to reopen the Thessaloniki-Skopje oil pipeline, which was constructed in 2000, but suspended its operations back in 2013, after the closure of the OKTA refinery.
The Greek company "Hellenic Petroleum" is interested in putting this feature back into operation and upgrading production. In this way, a collection and distribution center would be set up in Skopje and from there, in addition to the domestic market, the local market and other countries in the region will be supplied.
Prime Minister Zaev stressed that this connection of North Macedonia with Greece, with the support of the United States and the European Union, highlights the country as an energy corridor for the countries of Southeast Europe for alternative access to significant energy resources.
US Assistant Secretary of State for Energy and Resources Francis Fannon, during a news conference stated that North Macedonia's inclusion in these energy projects highlights the country an important regional partner, as a country that has achieved much in terms of energy policies and which is connected with major energy corridors. Greece will bring huge benefits to the country and to all the countries of the Western Balkans and Southeastern Europe. /ibna