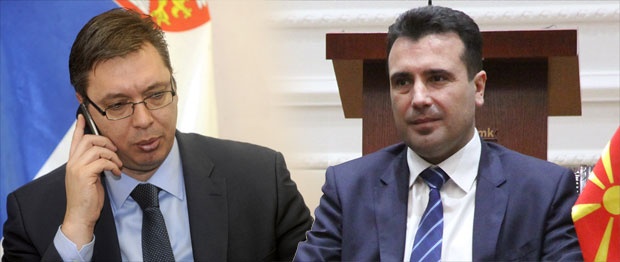 Zoran Zaev, prime minister of the fYROMacedonia, began his visit to Serbia on Monday evening. After an informal dinner with his Serbian counterpart Ana Brnabic, Zaev tweeted that he was "convinced this has been a good announcement of the successful official visit to Serbia".
The conversation between the two prime ministers was "inspiring", Zaev stated.
At the Belgrade airport fYROMacedonia's leader was greeted by Nenad Popovic, the Serbian minister of Innovations and Technology Development. On Tuesday, Zaev will have official meetings with Brnabic and president Aleksandar Vucic. According to the plan of the visit, they will discuss how to improve bilateral relations, the European path of both countries and their economic cooperation.
Zaev is accompanied by his ministers; the delegation from Skopje will hold a joint session with Serbian government members. After that, Zaev and Brnabic will hold a press conference.
This is Zaev's first visit to Serbia since he was appointed as his country's premier earlier this year. His visit marks the betterment of bilateral relations following months of tensions, which escalated in August with the withdrawal of the Serbian diplomatic staff from Skopje. At that time, Belgrade accused Zaev's government for "aggressive intelligence actions" against Serbia and practically abandoned the Serbian embassy.
However, Zaev and Vucic have reached an "agreement" through their telephone communication the days that followed. They have jointly concluded that "further disputes should be resolved exclusively through dialogue". Soon after the August tension, fYROMacedonia's PM and his Serbian counterpart met at the multilateral conference in Albania and the Serbian ambassador returned to Skopje at the end of that same month, on August 31…/IBNA