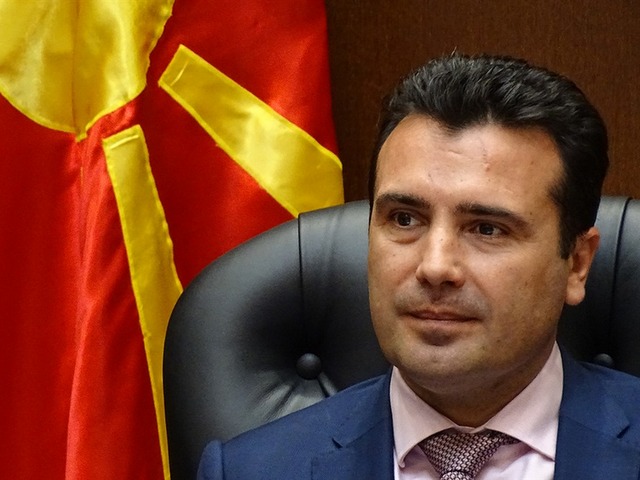 Dignity and identity are indispensable part of the negotiations with Greece, Prime Minister Zoran Zaev said Wednesday answering journalist questions in Negotino.
He said he would refrain from revealing details 'so it doesn't turn out we are negotiating via the media.'
"Mediator (Matthew) Nimetz conducts the process, he knows what is acceptable and what isn't acceptable for either of the parties. It's important to build confidence between the two parties in a bid to settle the issue. I'm glad that essentially all open issues have been dissected. Having been launched with seven starting positions, I know now that they have been reduced to four positions, meaning three have been settled. I believe in the policy of the new government that the remaining positions will be settled soon," Zaev stated.
Macedonia wants a name solution, the PM stressed and the government is doing literally its best to muster an internal consensus within the country for the purpose of finding a final solution.
"We are all optimists really to find a solution. I believe we need to find a solution for the benefit of the citizens of the two countries. If we truly want to find a resolution, it is possible, the process has a timeline ahead. I hope every coming step will harmonize our positions on the remaining outstanding issues, which should literally serve as a bridge of unity and towards finding a solution to the issue of Greece with our constitutional name," PM Zaev noted urging the negotiating process to be given a chance.
As regards a geographical qualifier, he affirmed that it was an acceptable option for Macedonia. "It means for us, a geographical qualifier is an acceptable solution, meaning we have rejected all other proposal that have been put forward, including a time determinant."
According to Zaev, it is an encouraging signal that something has already progressed.
"Understandably, the key positions are vital, i.e. the name, the constitution – whether it is going to be changed or not, the language, and other matters that have been mentioned. It is the essence of the negotiating process itself," PM Zaev stated.
He said he expected the two parties to be pragmatic and any possible solution to be upheld at a referendum.
The draft-agreement, Zaev said, is one of the tools, possible solutions are being scanned, how they could be accepted by the citizens in the two countries, etc.
"One of the 'scans' also includes a draft of an international agreement, treaty between the two sides, which hopefully in the end will be ratified by the parliaments. But let's not forget, everything that is being negotiated – at bilateral or at ministerial and prime ministerial level – is sent back to Nimetz, because the process is brokered by the United Nations," PM Zaev told reporters in Negotino./IBNA