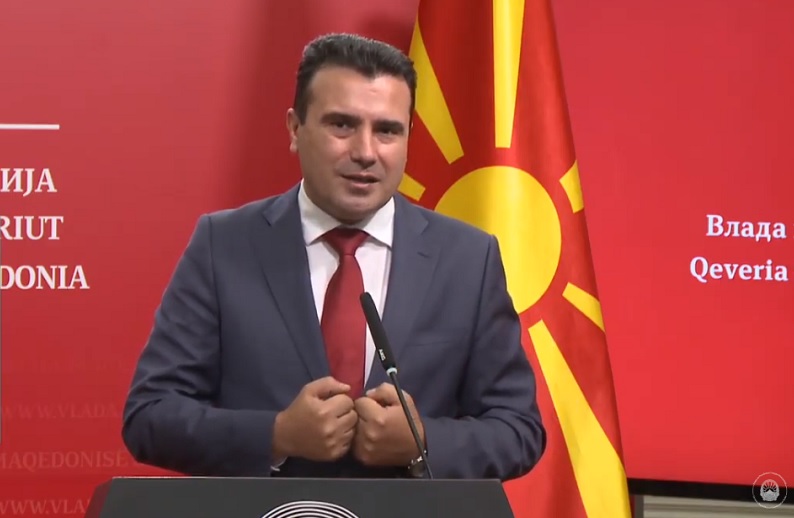 The road map, the short and full name of the country, non-interference in internal affairs and the negotiating framework, which is the work of the EU with Bulgaria, are the concrete steps we are working on and I believe we will work on until the end of the year, Prime Minister Zoran Zaev said today. Asked what are the concrete steps that the Bulgarian state leadership asked Skopje to carry out yesterday in meetings with EU Enlargement Commissioner Oliver Varhelyi.
"I believe that all these months we are building additional friendships, trade is increasing, we have mutual investments in both countries, cooperation between institutions is more visible, infrastructure between the two countries is improving more and more because it is not only legal formalities to agree, "it is also important to improve the overall cooperation and infrastructure between the two countries," Varhelyi said.
He clarified that it is first necessary to have a diplomatic note describing that the abbreviation North Macedonia is the same as the Republic of North Macedonia, that we have no territorial claims, that we do not interfere in the internal affairs and the rights of minorities, noting that because they are citizens of the Republic of Bulgaria and they should seek their rights as individuals, as individuals, as organized in North Macedonia and in all European countries.
This, he added, includes sectoral cooperation between institutions in all areas, including infrastructure, education and labour and social affairs, as well as culture, sport and health. According to Zaev, it is important to react to the prevention of hate speech, especially the institutions themselves to ensure through all their activities to build friendship and not to provoke certain hostilities, but also to act through talks, with appeals, when addressing private actors. He expressed Bulgaria's readiness to be the country's second partner, apart from Greece, which will look after the Macedonian sky.
Regarding monuments, Zaev said that many of the monuments in Bulgaria and North Macedonia should be in a friendly spirit, so that, as he pointed out, fascism should not have an ethnic dimension.
"In some of our monuments it has already been done. Where the Bulgarian fascist conqueror stood is now a fascist conqueror, because you cannot blame a nation for that, for participating in the third pact at that time or something like that. So the part where you ask about changing names, museums and the like, no, we don't need to. Our museums are good, but certain monuments, certain textbooks in North Macedonia and Bulgaria, that is, on both sides, we should teach the next generations in a spirit of friendship, Zaev said.
Asked by a journalist if the history textbooks will be changed, Zaev said there is no such thing, but there is talk of terms where the name of the friendly nation is found, namely Bulgaria associated with the fascist occupier.
"Nowhere in Europe is the name of the nation mentioned, the fascist conqueror is mentioned and in this spirit, in the spirit of friendship, cooperation and good neighbourliness, we normally expect it to be done. We have acknowledged certain weaknesses in Bulgarian textbooks, and the Bulgarian side is also ready to do the same, because this is how friendship is built, because neither the grandchildren and children of previous generations, nor that era can characterize an entire nation for a certain period," Zaev said./ibna