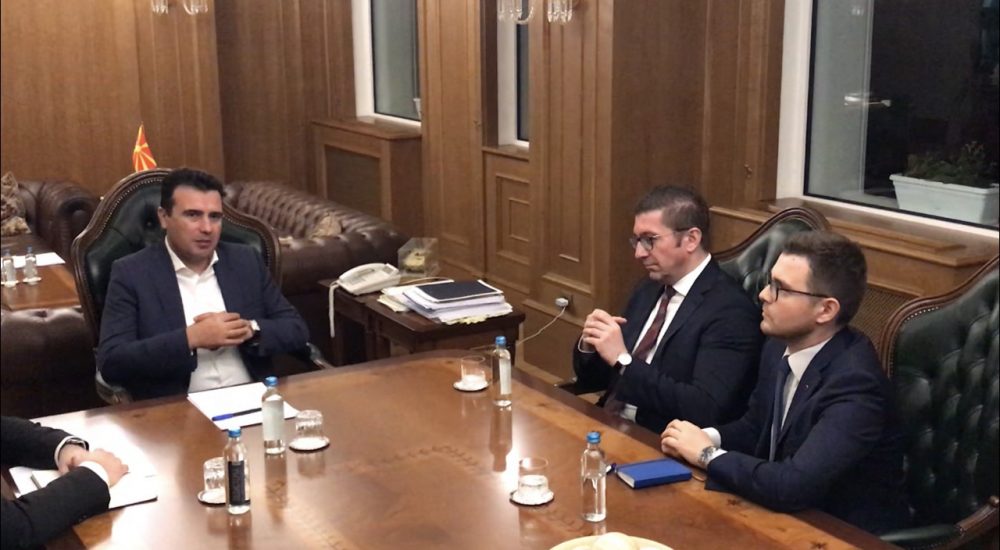 Free and fair elections along with political dialogue were some of the main topics discussed yesterday in the meeting held between Prime Minister Zoran Zaev and the leader of Macedonian opposition, Hristijan Mickoski.
The leaders of the two parties agreed on setting up work groups which will overcome any differences that exists on the issue of elections.
Zaev said that presidential elections must be fair, democratic and the best ones that the country has held so far. According to him, the two parties will constantly communicate with each other.
On his part, leader of VMRO-DPMNE, Hristijan Mickoski said that the head of the government has listened to their demands for fair and democratic presidential elections on April 21.
"For the moment, I'm not sure if the government has created the necessary conditions for the holding of free and fair elections. We're hoping that the government will address all the weaknesses that exist in the days to come", Mickoski said.
As far as special prosecutor's office is concerned, Mickoski and Zaev have agreed to continue dialogue to reach an agreement about the bill that would regulate this office. VMRO-DPMNE leader said that Katica Janeva and her team at the special prosecutor's office have lost all credibility and that they're not the right people for this institution.
However, PM Zaev said the opposite.
"I have faith on Katica Janeva, on the special prosecutor's office and the team. With this new law, we support the special prosecutor's office. In principle, we will try to reach consensus on this issue", Zaev said. /ibna/