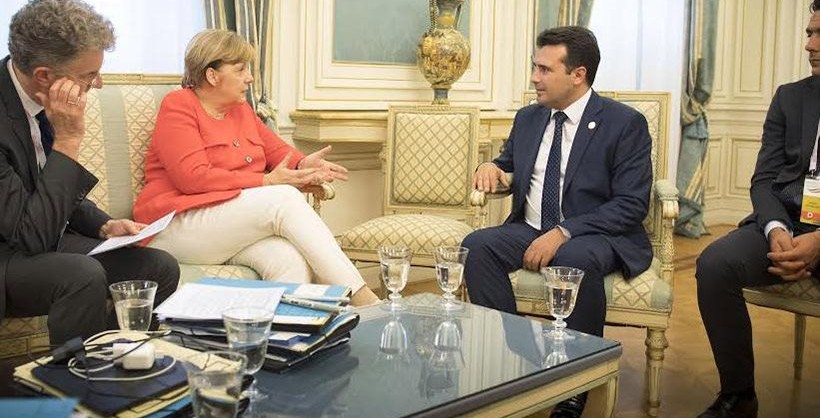 Prime Minister Zoran Zaev will meet with German Chancellor Angela Merkel and President Frank-Walter Steinmeier, on Wednesday, in Berlin.
Zaev heads the fYROMacedonian government delegation including DM Radmila Sekerinska, Deputy PM for EU Affairs Bujar Osmani and FM Nikola Dimitrov to Germany, government press service told.
After the meeting Merkel and Zaev will hold a joint press conference.
During his visit, Zaev is also scheduled to meet Volkier Treier, deputy chief executive of Germany's Chamber of Commerce and Industry.
He will address the topic "From Challenges to Prospects: Democratic Reforms and Euro-Atlantic Integration of the Republic of Macedonia" at the Friedrich Ebert Foundation (FES) main office based in Berlin. Germany's Minister of State for Europe, Michael Roth and the FES Chairman Kurt Beck will also join the discussion.
Zaev and government delegation will wrap up official visit to Berlin with dinner co-organised by Aspen Institute Germany which will be also attended by German FM Sigmar Gabriel and MPs of German Bundestag that show interest in fYROMacedonia, Western Balkans and EU and NATO integration of the countries of the region.
The first bilateral meeting between PM Zoran Zaev and German Chancellor Merkel took place on the sidelines of the EU-Western Balkans Summit in Trieste, in July last year.
Merkel then voiced support for the new fYROMacedonian government for its decisiveness for substantial reforms and for the determination to integrate fYROMacedonia into the EU…./IBNA