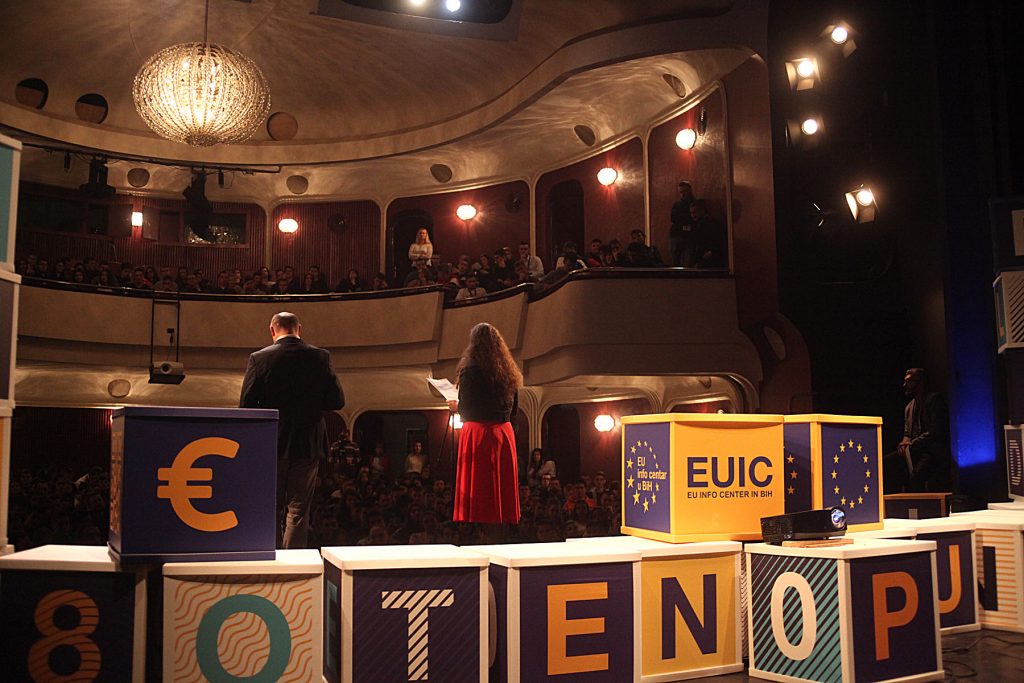 Filip, a secondary school student from Banja Luka, is just one of many of his generation who see his future in the so-called "digital age". He is 17 years-old but already knows that he will try to find a university abroad to study Information Technology.
"I still do not see a future here in Bosnia and Herzegovina. In Austria, which is not far away, we have the opportunity to enlarge our knowledge in IT and, possibly to find a good job", says Filip for IBNA.
Understanding that many young people in BiH has similar opinion, led by the idea of digitalisation of contemporary European society, which offers significant opportunities for career development of youth, the EU Info Centre, in cooperation with Bit Alliance, organised the first in a series of educational conferences "Youth in the Digital Age", on Tuesday in Banja Luka.
"We know that this country has remarkable young people who are pushing boundaries, and it is important to give them opportunities and encourage them to research, create, and meet their peers. With this conference, we aim to bring together the next generation of digital innovators in Bosnia and Herzegovina, IT industry leaders, start-ups and young people looking to network and learn", stated Viara Valtchanova, representative of the Banja Luka office of the Delegation of the European Union to Bosnia and Herzegovina.
The European Union supports the development of innovation, and is dedicated to investing in research and development and to achieving greater research impact that promote growth opportunities.
"We are well aware of the transformative power of science and technological innovation – for example, the digital economy is growing at seven times the rate of the rest of the economy," added Vatchanova, noting the current efforts of the European Union in promoting the development of connectivity of the region and the digital skills of future developers and innovators.
"In order to stimulate innovation across Europe and the Western Balkans, the European Union launched the Digital Agenda for the Western Balkans, as one of the six flagship initiatives of the EU enlargement objectives within the region. The goal is to support Western Balkan countries in their efforts to move towards a digital economy, for which EUR 30 million of investment has been earmarked", said the EU Delegation to BiH in a press release.
The aim of the conference is to bring new perspectives and different visions to crucial questions related to familiarising youth with career opportunities in the IT sector.
"Today we have gathered a large number of youth from Banja Luka and the surrounding region, who came here to listen to success stories of BiH youth. Through their personal success stories we wish to motivate youth to stay in the country, and present them opportunities for career development", said Armin Talić, CEO of Bit Alliance, the lead association of IT companies in Bosnia and Herzegovina.
Companies that are members of Bit Alliance form 70% of the IT market in BiH have recognised the significance of introducing young people to a wide variety of career possibilities in this perspective sector.
"Young people often think that they need to be geniuses to be a programmer or developer, which is of course not the case. My story is full of ups and downs and I want to motivate them", said Ognjen Šipka, a 23 year-old programmer and one of the conference speakers.
Filip, from the beginning of this story, also participated on the conference. He stated that it was a good experience and that conference was useful.
"But, first of all it is necessary that our politicians understand that we are the future of this country, not them. If they do not do that, the young people will try to find another country to live, work and use all their talents", he said.
The conference gathered over 350 high school students from Banja Luka and the surrounding region, IT industry leaders, human resources experts, and young IT experts./IBNA