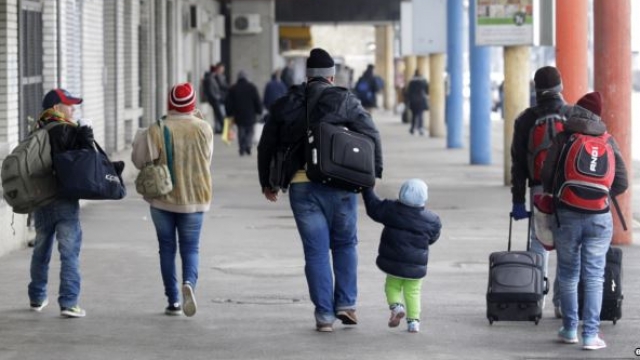 Pristina, 8 May 8, 2015/Independent Balkan News Agency
By Elton Tota
More and more young people from Kosovo are swarming toward EU countries, as they see this as the only way out of poverty, but without taking into account the cost of their challenges and sacrifices.
According to non official statistics, within a year, around 100 thousand citizens from Kosovo have abandoned their country, seeking accommodation and social protection in EU countries.
Dajana Berisha, of the FORUM for Civil Incentive told IBNA that the youth of Kosovo see their future abroad, due to unemployment, which is the highest in Europe and due to the economic, social and political insecurity that is ruling in the country.
She said that the number of unemployed people in Kosovo is the highest in the region.
"According to official statistics, unemployment of young people in Kosovo is estimated to be 55,9%. The highest unemployment rate dominates among young people from the age of 15 to 24, whereby 50,4% are male and 68,4 are females", she says.
Professor of European law, Muhamer Pajaziti told IBNA that the cause for the departure of people relates to the political indoctrination in every aspect of society, the fact that intellectuals are ignored and the domination of mediocre political classes which are implicated in organized crime and corruption.
"Unfortunately, 20 years after the fall of communism, the difference in wealth between Balkan and EU countries is big. Corruption and white collar corruption, lack of professional education, is not allowing these countries a sustainable economic development and a better perspective for young people", Pajaziti says.
Meanwhile, expert of European integration, Bardhyl Hasanpapaj told IBNA that the phenomenon of massive fleeing has not only affected Kosovo, but also other poor countries of the EU.
"Other member countries are also seeing a wave of departures from young people. In Romania, where the average salary is around 300 Euros, the number of population has dropped by 12% in the recent years. The same thing has also taken place in Bulgaria, where according to the official statistics, population has dropped by 7%. Meanwhile, as a result of emigration from new member states which joined the EU in 2004 and 2007, population in rich European countries is increasing. For the first time in 2012, Germany saw a growth in population, while the same situation has also been seen in other EU countries", Hasanpapaj says.
Problems with illegal migrations became a real concern for Kosovo in December 2014 and January and February 2015. During these three months, thousands of citizens are believed to have left Kosovo toward the EU countries. Meanwhile, a small number has already returned to Kosovo now. /ibna/