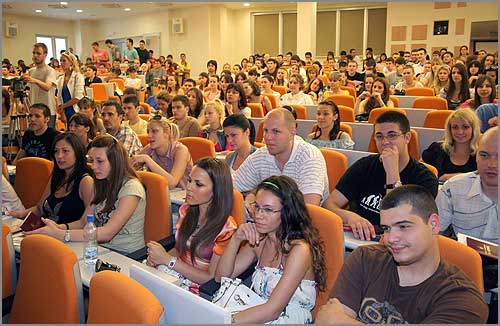 Belgrade, June 3, 2016/ Independent Balkan News Agency
By Milos Mitrovic
The ruling Serbian Progressive Party (SNS) is the most sincere advocate of country's joining to the European Union, while opposition Democratic Party (DS) and Liberal-democrat Party (LDP) are behind it in this striving; authoritarianism fits better with Serbian mentality than democracy. These are the notions of the young population in Serbia, according to the poll conducted by Faculty of Political Sciences in Belgrade and European Movement in Serbia.
The poll was carried out among 979 persons aged 15 to 29 years old from April 19 to 29.
The young respondents believe that exactly youth would be the winner of Serbian joining the EU, as well as the political elite, while greatest losers, in their opinion, would also be politicians, alongside with farmers and tycoons, Tanjug news agency reports.
The poll suggests that 33 percent of young Serbians are opposed to country's EU membership, 12 percent are "absolutely supportive"; 27 percent of the respondents are indifferent, while 28 percent are more "pro" than "contra". But this changes if recognition of Kosovo becomes the precondition for joining the EU – in that case 75 percent of the respondents would not support Serbian EU integration.
Although they believe that Serbian economy would be better in the EU, the majority of respondents think that country should rely on Russia in foreign policy, while EU is at the second place in that regard.
The youngest among the interviewed are inclined to Russia, but the oldest would rather choose EU.
"The young are confused and not informed properly. Good decisions may be done only by informed citizens", Tanja Miscevic, head of Serbian negotiating team in accession talks with the EU said, commenting the survey results. Media should also be better informed on EU integration, she added.
Miscevis specified that 33 percent of young which are opposed to EU integration are of 15 to 19 years of age. In her words, the more should be done in fighting against prejudices and stereotypes. Considering better informing, EU Delegation in Serbia could help, Miscevic concluded.