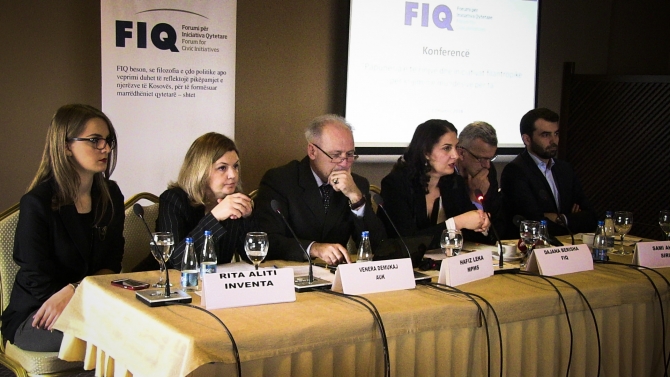 Pristina, December 1, 2014/ Independent Balkan News Agency
By Elton Tota
Young people in Kosovo see their future abroad, due to unemployment, which is the highest one in the region and due to economic, social and political security that rules in the country.
This was said in a media conference organized by the Forum for Civil Incentive (FCI), called "Unemployment of youngsters and philanthropic incentives for the creation of possibilities for them", where different figures about unemployment people in the country were offered.
Dajana Berisha, executive chairwoman of the Forum for Civil Incentive said that this is a sensitive and critical situation for all the citizens of Kosovo and especially young people. She said that the number of unemployed people in Kosovo is the highest one in the region, while saying that in the face of this high unemployment rate amounting to 55,9%, young people are not seeing any future and this is one of the causes of migration.
But, Hafiz Leka, head of the Labor and Employment Division and the Ministry of Labor and Social Welfare doesn't agree with the figures issued by the Agency for Statistics on unemployment in the country. He said that Kosovo still doesn't have real figures on unemployment. In contrast to the figures of ASK, he said that unemployment amounts to 73 or 74% and not 55%, like ASK claims.
According to him, unemployment rate in Kosovo is 30,8% and that this is worrying.
Meanwhile, Agron Demi, executive director at GAP institute, mentioned massive migration in the country as a negative phenomenon. He claimed that the majority of professionals employed in public enterprises is over the age of 50 years old and that the main concern of these enterprises is the fact that they cannot find new professionals. Meanwhile, he considered data on the reduction of unemployment as inaccurate.
Demi salso said that around 35% of job seekers in June of this year ranged from the age of 15 to the age of 24 and this amounts to an increase of 2,8% compared to the previous year. Meanwhile, 83% of job seekers in job centers of Kosovo are under the age of 40. /ibna/