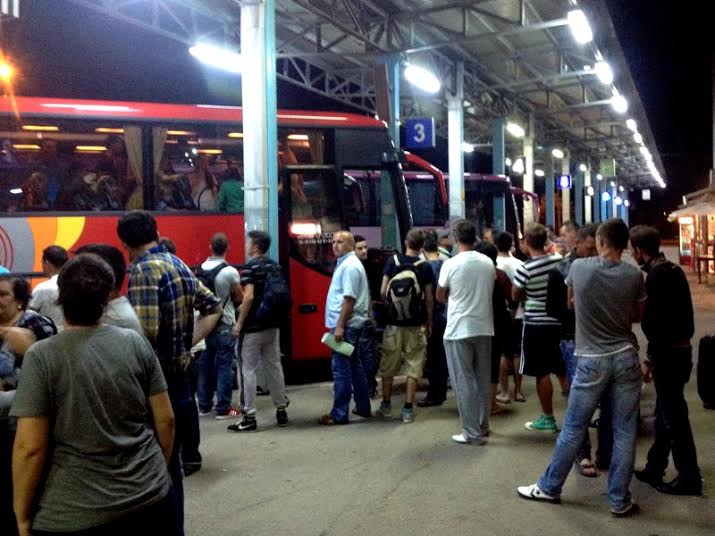 IBNA Special Report
Skopje, September 24, 2014/Independent Balkan News Agency
By Naser Pajaziti
Non government organizations and youth organizations in FYROM have given the alarm for the large number of young people who are abandoning the country due to the lack of hope for a better life and employment. Debates have grown in the recent days about this topic.
The director of the youth coalition "SEGA", Zoran Ilievski, says that the difficult economic conditions and lack of perspectives, are the factors that force young people to migrate by not taking into consideration the different risks that they may face.
"In the majority of cases, their priority is to reach their destination, without taking into consideration the existentialist problems that they might face, such as the working conditions and the perspective that they may be offered. They just want to leave the country", says Ilievski.
Representative of ORCEI (Organization for Regional Cooperation and European Integration), Ardian Mehmeti says that the departure of young people poses a threat.
"The largest part of young people belongs to the Albanian community and we have our statistics for this. Around 70% of young people say that they're ready to leave the country, due to the lack of perspective in their country. Our survey has been conducted in rural areas, but also in poor urban areas. These indicators are worrying and state authorities must take measures for this", says Ardian Mehmeti.
He adds that these young people miss an opportunity to build a future in the country by leaving school.
But, on the other hand, other associations claim that young people may have opportunities to be employed in their country.
Martin Aleksovski from the Youth Forum says that the recent measures taken by the government, including financial support through loans for self employment or the opening of small businesses or family businesses, have assisted numerous young people to see their future in the country.
But, the majority of young people who have no profession, cannot meet their minimum personal needs with their salary, let alone start a new family.
"Recently, a large number of young people from Kumanovo have gone to far away countries like Qatar. There's also a significant number of those who do not hesitate to go to those countries with a high level of risk in the aspect of security, such as the case of Afghanistan and Iraq, doing hard jobs", says Aleksovski.
In search of a better life, young people from FYROM use every opportunity available to leave the country, including student visas, tourist visas and other forms.
All studies conducted show that young people do not want to live in this country. One of them is the study conducted by the Center of Research for Politics and Justice in the framework of the "Goce Delcev" university in Shtip.
Based on a survey with young people up to the age of 33, 77.3% of respondents say that they want to leave the country. Meanwhile, their favorite countries are USA and Germany. As far as the reasons that they want to leave the countries are concerned, 57% of them say that they want to leave for a better life, while 15% say that they want to go for tourism. Around 80% of respondents say that other countries offer bigger opportunities for young people.
The government says that it's working to provide better conditions for young people, by offering self employment projects, different social projects, study scholarships and support for excellent students.
"Youth is at the government's focus and their support comes through different forms and different social projects. So far, thousands of young people are part of the self employment project and with the financial help of the government, they have opened new businesses or they've been employed in different enterprises. We also have other social projects to support them, but in the majority of cases, young people lack incentive", says the government's spokesman, Muhamet Hoxha.
According to World Bank reports, FYROM ranks 23rd among 25 countries with the largest number of people who migrate. According to these reports, in 2010, 447 thousand citizens of FYROM abandoned the country. /ibna/