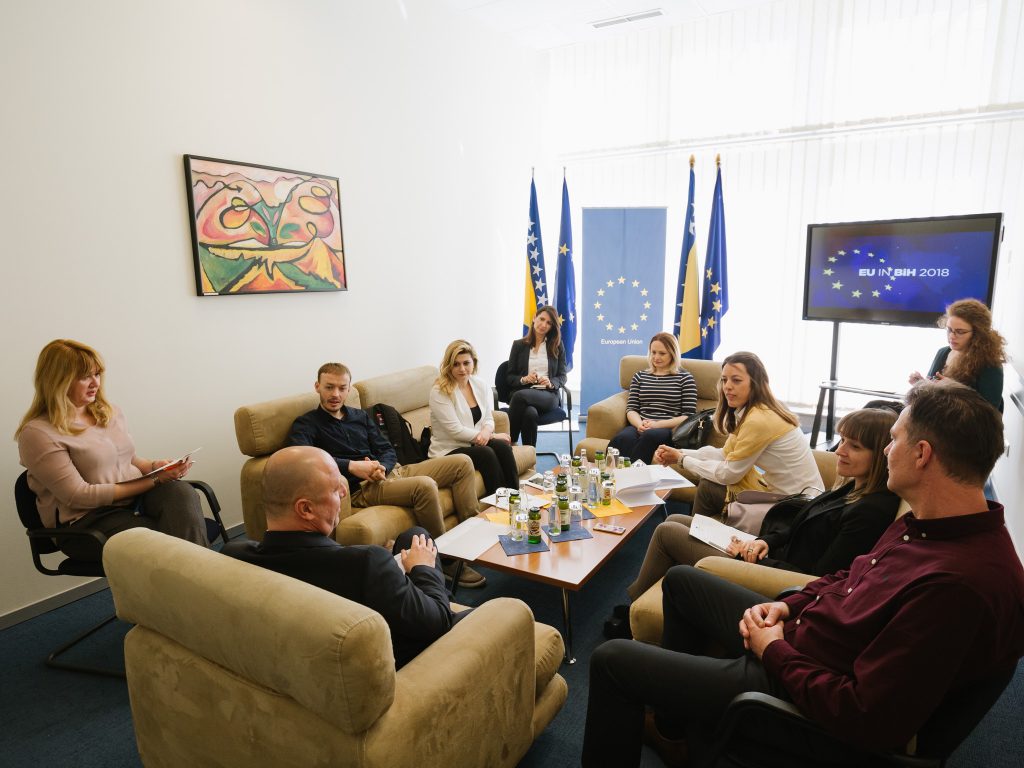 The EU Scheme for Young Professionals in the Western Balkans enables young civil servants from the region to build professional capacities and prepare the public administration for the accession process.
Ani Dobra, Trim Berisha, Danilova Stojne-Ivanoski, Jelena Zarić and Snežana Novković are part of the regional exchange visit to BiH, during which they plan to learn about BiH's administration, but also for them, even more importantly, to learn about the country, its people, culture and traditions.
Deputy Head of the Delegation of the European Union to BiH, Khaldoun Sinno, greeted the third generation of young civil servants from the Western Balkans visiting BiH. While speaking with the group, Sinno noted that in the aspect of the EU integration process it is an interesting period for all of the relevant countries and that it is increasingly important to work together with the administrations and support their work.
"The EU is happy to participate and promote this programme given that is something which is dear to all of us – regional cooperation. What you are doing as young civil servants is extremely important – you are learning about each other and you understand that you all tackle somewhat similar challenges. This programme is not only about establishing professional contacts, but about forging friendships, which in the end is even more important. Establishing and maintaining cross border friendships are very important for the region, it enables you to understand your similarities and work together more closely", Sinno said.
As it was announced from EU Delegation to BiH, the five young civil servants, all working in different sectors within their respective countries, presented their expectations from the regional exchange, agreeing it is a unique opportunity for young professionals to exchange views and learn about other countries.
Media freedom, fundamental rights and rule of law, as well as the growth of competitiveness and the economy, are similar challenges that all the relevant countries face, despite these countries being at different stages of the EU integration process, agreed the young civil servants. For such reasons, regional cooperation and exchange of knowledge is a crucial prerequisite to help overcome obstacles and support the region in moving forward with the reforms. The reform processes, which are being adhered to for the sake of citizens, need to be intensified for the benefit of young people and indeed the future of the region./ibna