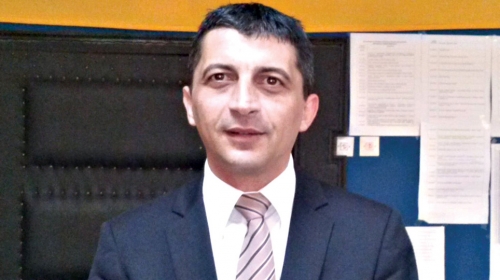 Bucharest, November 23, 2015/Independent Balkan News Agency
By Milos Mitrovic
The police in Serbian municipality of Prokuplje filed criminal charges against two local officials of the opposition Democratic Party (DS); they are suspected for writing "You lie Vucic" graffiti alongside with three unidentified persons, Public Prosecutor's Office in Prokuplje told Blic daily.
The criminal charges were filed against Boban Lepojevic (photo), head of DS local branch, and Dragan Dinic, chief of local DS election staff, due to "reasonable doubt of destruction or damage of the assets of others", according to Article 212 of the Criminal Code, police stated.
For the offense they are charged with, opposition activists may be faced with prison sentence up to six months, or a fine.  Lepojevic and Dinic are suspected of "painting in several places in the municipality of Prokuplje the phrase "Vucic Liar", Jelena Boskovic, Public Prosecutor in Prokuplje, explained.
"I've never written a single graffiti and I believe that the case against me and Dragan Dinic… are yet another political farce and an attack on the Democratic Party in Prokuplje", Lepojevic commented confirming that he gave a similar statement to the police.
According to Blic daily, DS Youth Club was behind the graffiti and they promise they would continue with similar activities.