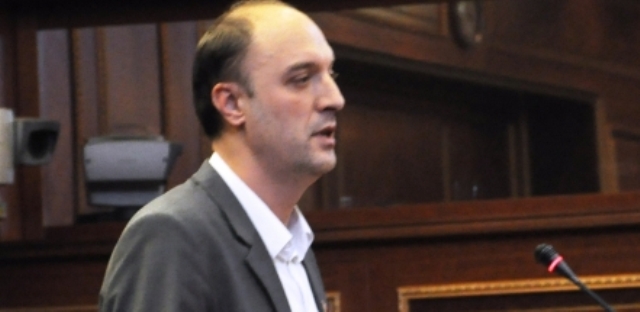 Pristina, June 20, 2013
During a debate in the Parliament of Kosovo, Self Determination Movement has demanded the departure of Prime Minister Hashim Thaci, the government and MPs which according to SD are supporting the decisions of the Prime Minister which are in favor of Serbia.
The head of the Parliamentary Group of Self Determination, Visar Ymeri said that, "The state of Kosovo has degraded since its creation, but this degradation has become even more acute now with agreements that desecrate procedural order in Kosovo. The agreement reached with Serbia has now started to be implemented, although it hasn't been ratified in parliament. Everything in Kosovo is being decided by Serbia, because all decisions are being taken in harmony with them, including the announcement of the date for the local government elections", said the leader of the SD parliamentary group, Visar Ymeri.
According to him, the people need institutions and government people who work for the interest of the people and not for their interest and the interest of Serbia.
"This degradation must stop. The constant demand of the Prime Minister of Kosovo for us to give up on the state consolidation process is a demand of Serbia. This makes this Prime Minister a pro Serb. His allies in this incentive are not less guilty. These allies are not only international, but also local, even in this parliament. Therefore, instead of giving up on the state, Hashim Thaci must leave power. This Prime Minister must leave along with his government. The structure of this parliament is facilitating the degradation of the state, therefore this Prime Minister must leave, because Kosovo needs institutions of Kosovo which work for Kosovo and its people", said Ymeri. /ibna/