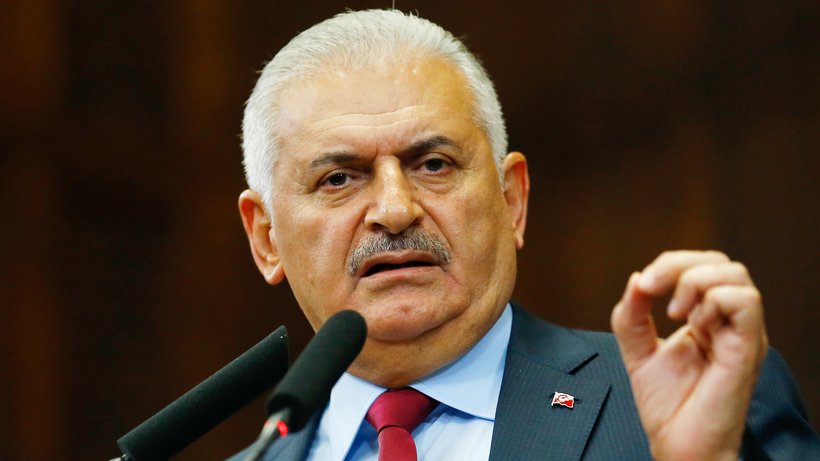 We will not tolerate efforts to form artificial state at borders we share with Iraq and Syria, says PM Binali Yildirim
Prime Minister Binali Yildirim said on Friday that Turkey will not allow the existence of an "artificial state" at its southern border.
Speaking to reporters in Ankara after Friday prayers, Yildirim said that Turkey will defend its borders against any threat.
"We will not tolerate any efforts to form an artificial state at our borders, particularly the borders we share with Syria and Iraq."
Turkey has been fighting an insurgency at its southeastern border, after the PKK listed as a terrorist organization by Turkey, the U.S., and EU — resumed its decades-old armed campaign in July 2015.
More than 1,200 people, including security force personnel and civilians have lost their lives in attacks by PKK.
"Under no circumstances, we will hesitate to respond in the future, as we did in the past, if we face an attack on our sovereignty and security," he added.
Speaking about a recent interview by Turkey's main opposition Republican People's Party (CHP) leader Kemal Kilicdaroglu to a German newspaper, he said, "Kilicdaroglu should stop saying Turkey is unsafe."
In his interview, the opposition leader had said that German citizens should stop traveling to Turkey as it is unsafe, a charge he later denied.
Yildirim denied that his government was plotting against the CHP by sentencing its lawmaker Enis Berberoglu to 25 years in prison. "Justice is a need for everyone."
Berberoglu, was convicted this June for disclosing confidential information to a local newspaper about Turkey's spy agency National Intelligence Organization (MIT) trucks traveling to Syria in January 2014./IBNA
Source: AA