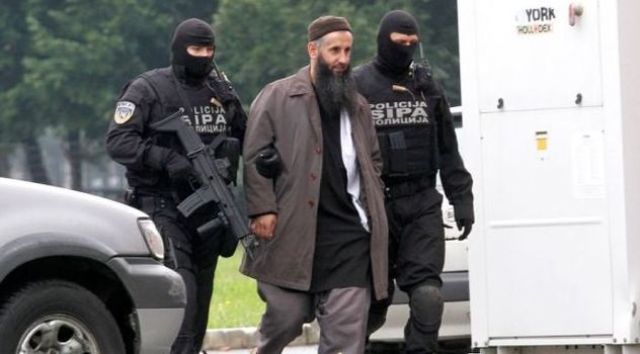 Sarajevo, November 5, 2015/Independent Balkan News Agency
By Mladen Dragojlovic
Bilal Bosnic, an imam from Cazin, was sentenced on Thursday on seven years in prison for public incitement to terrorism.
BiH Court announced the sentence after one day of delay, with no explanation as to why it was postponed. During the announcement, Bosnic was calm and didn't react. His attorney told the media that it was a "political process" and that he will file for an appeal. The prosecutors said that they are satisfied because Bosnic was pronounced guilty, but they will ask higher sentence on second instance Court.
The Court found Bosnic guilty of consciously propagating and spreading Islamic radicalism and publicly inciting others to join terrorist organizations from the position of religious authority, as a member of the so-called Salafi Community in BiH, during 2013 and 2014 in several places, such as Velika Kladusa and Gornja Maoca. Bosnic is charged with holding public speeches at gatherings of the Selafi community's members and spreading messages via social network "YouTube" in order to encourage the members of the Salafi Community to join the Islamic State, an organised terrorist group.
During the trial the prosecutors presented stories of many young people who were on Bosnic "lessons" and who, after that, went to Syria to join Islamic State. The families of those young people who died in battles in Syria, directly accused Bosnic for propaganda which led their children to go join that war.
A protected witness said in the Court that Bosnic, along with Nusret Imamovic from Gornja Maoca, was recruiting the radical islamists in BiH to go to Syria, but was also the man who issued the special licences for departure. These documents, according to the witness, were called "teskija"
"Before departure from BiH we would receive a recommendation which we were obligated to show in Syria and which confirmed that we are dedicated Islamic warriors but not spies. This recommendation was issued by Nusret Imamovic and Bilal Bosnic", the witness said.
The pronounced sentence of imprisonment shall include the time Bosnic has already spent in custody, since September last year, when he was arrested. Custody will be extended for the next nine months, until August 15, 2016 when Bosnic will be sent to a prison.