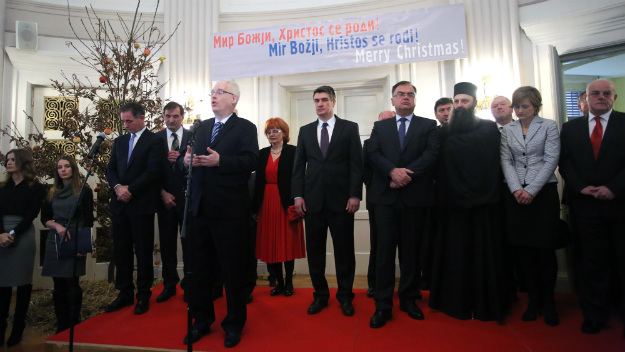 Zagreb, January 6, 2015/ Independent Balkan News Agency
By Marija Avramovic
The reception of Serb National Council (SNV), which is held every year to celebrate the Orthodox Christmas, this year, along with Prime Minister Zoran Milanovic and Head of Parliament Josip Leko, also attended President Ivo Josipovic.
Last time Josipovic attended the traditional reception was back in 2012, despite the fact that, according to tradition, the said event is attended every year by the Prime Minister, Head of Parliament, mayors, part of the political elite in Croatia and a number of ambassadors.
Current president refused to answer whether this means he no longer considers the President of the SNV Milorad Pupovac an "ethnobusinessman", as he had called him two and a half years ago.
"This is not the right place for disputes that are happening on the political scene. This is what happens in politics, sometimes we are closer, sometimes we are distant, but those messages of Christmas that I noted today remain the most important", Josipovic told reporters.
"Loyalty is what defines us, and the principles I live for and what I will fight for, for as long as I'm a politician, are justice, equality, freedom and fight for the rights of national minorities in the country that will soon emerge from the crisis, for which we now have serious economic indicators", Milanovic said.
Neither Pupovac, though, chose to linger on the reasons behind Josipovic's change of heart, after two years of absence and harsh words between the two.
"The types of conflict we have had in political life in the past year or two are not good for the parties nor for the country", he added.
On behalf of the Croatian democratic union (HDZ) president Tomislav Karamarko, the reception attended the foreign secretary of the party Miro Kovac, who after the banquet conveyed the greetings of Karamarko and presidential candidate Kolinda Grabar Kitarovic to Orthodox believers.
At this Christmas reception are traditionally given awards of SNV for humanism, tolerance and affirmation of anti-fascist values, with one of the prizes this year going to young Head of Rijeka National Theater Oliver Frljić, known for his provocative and controversial moves regarding the celebration of Statehood Day.