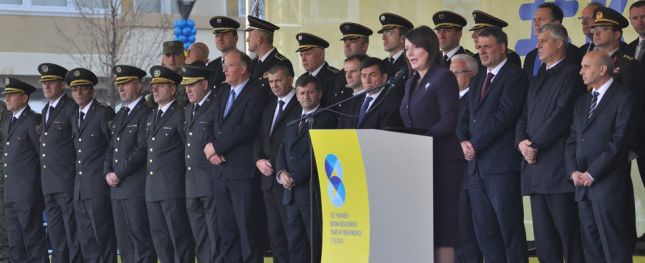 Pristina, 17 February 2016/Independent Balkan News Agency
By Elton Tota
Kosovo is celebrating today its 8th anniversary of Independence, amid celebrations by the majority and protests by the opposition. The eighth anniversary of Independence is being marked with different activities, starting with the marching of the Kosovo Security Force, Police and also blood donation.
The march is also accompanied with other acrobatic activities by military cadets and by the music band of the Kosovo Security Force.
"17 February represents the most important day in the history of Kosovo. It represents the sacrifice of entire generations to build a state", said president Atifete Jahjaga in a ceremony held in honor of the 8th anniversary of the Independence of Kosovo
"Kosovo is an irreversible reality, a peace gained after a war and sacrifice and an eternal friendship with the United States of America and aspiring for integration in the European Union and NATO", Jahjaga said.
"However, she continued, Kosovo is a democracy which has not yet been completed. It is being challenged at a time when we need more strength to overcome our differences and courage to cope with desperation".
Referring to the serious political situation which has led to the blockade of the proceedings in the parliament of Kosovo, Jahjaga has once again called on the political sides to restore dialogue and give up violence and destruction.
Meanwhile, Prime Minister Isa Mustafa said that 17 February represents the day of sacrifice for freedom and independence for many generations.
"In these 17 years of freedom and 8 years of independence, Kosovo has undergone crucial reforms and these reforms cannot be jeopardized by anyone. I invite citizens of Kosovo to be proud of this day because of the achievements that the country has made. God bless Kosovo", Mustafa declared.
Mustafa also talked about the legitimacy of the government contested by the opposition, by saying that the legitimacy was given by the people through a democratic process.
But, while the eighth anniversary of Independence is being celebrated, opposition parties in Kosovo have decided to hold a protest against the government.
Visar Ymeri, leader of Self Determination, says that citizens of Kosovo do not intend on tolerating a government which wants to offer Serbia a chance to make political and territorial interventions in Kosovo.
"Citizens will not tolerate it if Kosovo's lands are given away to another country, such as Montenegro", Ymeri said.
Founder of Self Determination, Albin Kurti says that the current government is in panic, while the people is enthusiastic. According to Kurti, the changes will come, because they belong to the people.
Leader of the Alliance for the Future of Kosovo, Ramush Haradinaj, called on women to participate in the oppositions protest and appealed for this protest to be peaceful. /ibna/