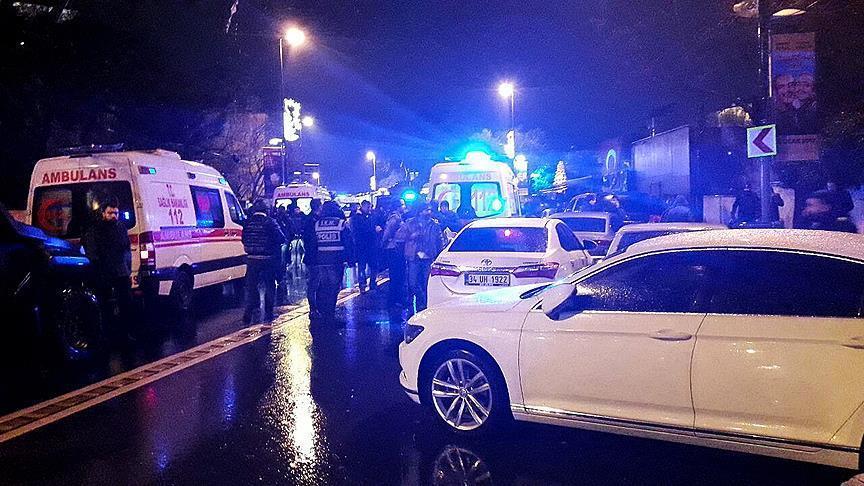 An armed attack killed at least 39 people and injured 69 — four of them critically –at an Istanbul nightclub early Sunday, the interior minister said.
Suleyman Soylu told reporters that 21 victims have been identified.
"16 of the victims are foreigners while the other five are Turkish citizens," the minister said, adding that efforts continue to identify the other 18 bodies.
Soylu said police forces were hunting down the terrorist.
"Our law enforcement has launched an operation. We hope he or she will be caught before long," he said.
The interior minister also mentioned that 69 people are also in hospitals, receiving treatment.
"4 of those injured are in a critical condition. One of them is severely injured," Soylu said.
Earlier, Governor Vasip Sahin described the attack in Ortakoy, Besiktas, as "cruel" and an "act of terror".
"At 1.15 a.m., a terrorist carrying a long-barreled weapon martyred the police officer waiting outside, and then martyred another citizen to enter" the club, he said.
"He then carried out this violent and cruel act by spraying bullets on innocent people who were celebrating the new year," Sahin said.
An investigation is underway and the governor's office would provide further updates, he added.
President Recep Tayyip Erdogan expressed deep sadness over the attack, according to government sources, and received updates from Prime Minister Binali Yildirim and Governor Sahin on the casualties as well as the details of the terrorist act.
The attack comes three weeks after twin bombings in Istanbul killed at least 45 people, most of whom were police officers./IBNA
Source: Anadolu