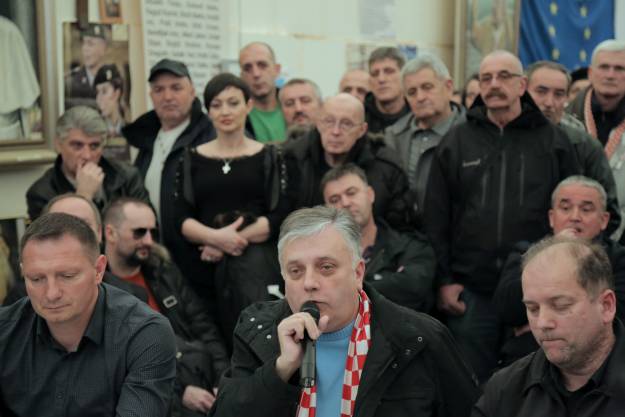 Zagreb, March 16, 2015/ Independent Balkan News Agency
By Marija Avramovic
Zagreb police pressed misdemeanor charges on Monday against Djuro Glogoski and Josip Klemm, leader of the veterans' protest which started on October 20 last year, because as the organizers of public assemblies did not report public gathering to the local competent police department.
The police charged Klemm and Glogoski on violating the Law on Public Assembly that is organising unreported protests which is a misdemeanor for which they could face a penalty of five to 20 thousand kuna.
On Saturday, about 400 veterans, after Klemm informed the police about their intent, they went to the apartment of Prime Minister Zoran Milanovic, where they stayed for a short time singing and asking for him to come out and reply to them, after which they returned to their tents in front of Ministry of Defence.
"Regarding the happening of unregistered public gatherings that were held on Saturday, March 14, 2015 in the area of the center of Zagreb, Zagreb Police continue to conduct a criminal investigation", the Zagreb police announced on this occasion.
The Minister of Veterans Predrag Matic held today a press conference on the topic of the Law on the Rights of Croatian Homeland War Veterans and their family members where he said that so far 20 million kuna is an estimate of how much received requests from defenders would cost.
However, war veterans protesting in front of the ministry, assured the media after minister's conference that they had not yet submitted their suggestions, and had no idea which group had sent it, confirmed Glogoski immediately after the conference.
"After we read the draft of the bill on veterans and calculated everything, on an annual basis, the expense would be 20 billion instead of 6 billion, which is now", Matic said.