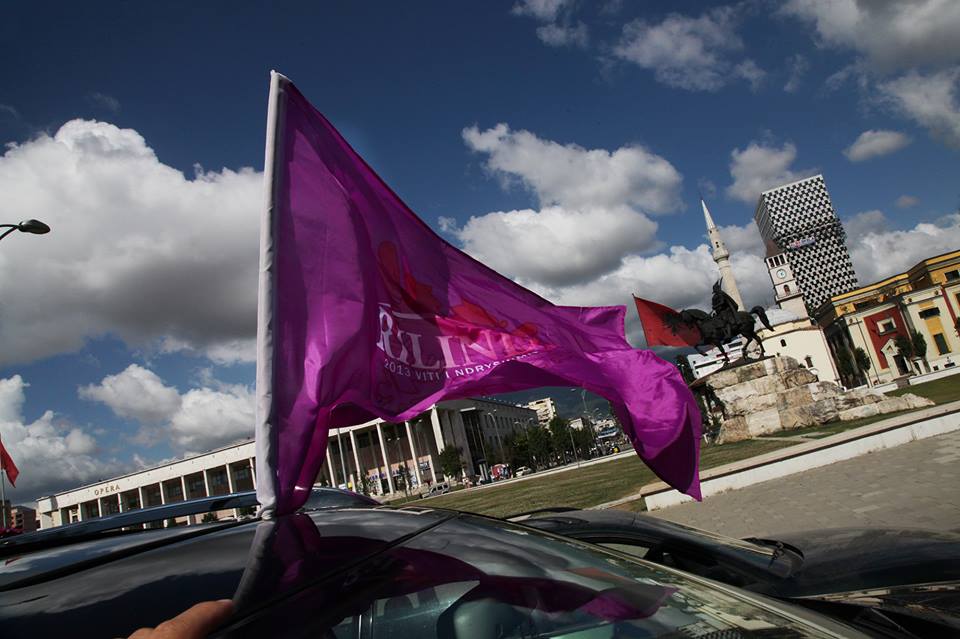 IBNA Special Report/The first anniversary of the return of the left in power after 8 years, is accompanied by good news for Albania, the granting of the EU membership candidate status. The most known Albanian politicians comment the political developments following the arrival of the left in power. We will have insights from the leader of SP, Edi Rama, that of DP, Lulzim Basha, former prime minister Sali Berisha and also analysts such as Blendi Fevziu, Fatos Lubonja, Artan Hoxha and Cim Peka
Rama: We have the strength to change Albania
A year after coming in power, Mr. Rama recalls June 23, when 1 million Albanians voted for the left to come back in power after 8 years in opposition. He says that he's convinced that Albania is moving forward in the right direction a year after Albanians gave 1 million votes to the left wing coalition.
"On the first June 23 of our government, although it's not yet been a year since we took office, we have honored the vote of those 1 million people, who gave us a privilege given to very few people in life, the leadership of the country", says Rama. He says that "today we're more aware than a year ago about the extraordinary opportunities of our strength, thanks to this first period of our government". Rama says that this is a strength "to change Albania".
Basha
A year after the June 23 elections, Mr. Basha says that the government has only seen failures and disappointments. He says that electoral campaigns have been forgotten, while the country has sunk in poverty and unemployment. According to him, drug traffickers and previously convicted people have been given power, while hundreds of educated people trained in the best European and American schools and institutions, have been thrown on the road.
"Today, a year after June 23 elections, Albanians can see that nothing was reborn in this country. Economy has deteriorated, thousands of jobs have been closed, enterprise is on the edge of survival and bankruptcy, domestic investments in their lowest levels and foreign investments close to zero.
INSTAT statistics talk about a desperate increase of unemployment in the recent month. The world of crime, speculation and  fraud has found a warm shelter inside of this government", says the leader of opposition and mayor of Tirana, Lulzim Basha.
Berisha: Integration is delayed, Rama is responsible
For the former prime minister Sali Berisha, a year into Rama's government is an opportunity to reflect on the process of integration, which according to him, the head of the Socialist Party blocked when he was in opposition.
Berisha praises the fact that the EU granted Albania the membership candidate status, saying that "the Council of Ministers of the EU member countries delayed the decision for reasons which were entirely related to Albania".
"But today, we must recall that our status was delayed because Edi Rama, like no other politician in Europe, in an anti national act, blocked it in December 2012 and March 2013, by refusing the voting of the three bills for which it was agreed", says Berisha.
Analysts comment the return of the left in power
In the first anniversary of the general elections that market the rotation of power in Albania, journalists and analysts share different insights as to how much the government led by Edi Rama has delivered its promises. Fatos Lubonja, Blendi Fevziu, Artan Hoxha and Cim Peka have different insights about the work of the government. Nevertheless, all of them praise police raid in Lazarat. But even on this point, there's a lot to discuss…
Known analyst, Fatos Lubonja says that it's still early to evaluate the work done by the left wing government: "The first thing that may be said is that it's still early to give a final and convincing insight about whether we hope for the best with this government or whether we will see the same story that has accompanied Albanian political class in the past 20 years. I'm one of those who is disappointed by this political class and I'm very skeptical. Nevertheless, I believe that there have been several actions which relate to sensitive issues for the public". Lubonja says that "we're still seeing more work for the image than the crucial and true change" and adds:
"In spite of the actions that would perhaps offer some sort of hope, what would be important would be the projects to take Albania out of the economy of crime and turn it into a healthy economy, from the politics of abuse to the politics of public service, from the country of impunity of politicians to the country of justice. Thus, this is a long journey for which I'm very skeptic".
Journalist and known columnist, Blendi Fevziu, moderator of the most viewed political TV program in Albania, says that the current government may have a long life, but it can also fall very quickly and analyzes the reasons why he views it like this: "It's not a government which has marked any culminations, besides perhaps the latest intervention in Lazarat, which I think was necessary and could have been done in circumstances less spectacular. I don't see any big achievements. It's one of those government that can last long for not having any culmination, but it can also fall quickly for not having any results".
Analyst Artan Hoxha and presidential nominee in the latest elections, is critical about the new government: "I see it as a product of those elections, where the best elections ever held in Albania have produced a parliament which is controlled by the grey segments of business and crime". Hoxha expresses his concern about the fact that the left wing has a strong majority in parliament. "Being a super majority, it's super arrogant and the arrogance of this super majority is expressed every day in its unilateral actions, which do not care about independent institutions, court rulings, stand of the opposition and other segments of society".
Columnist Cim Peka, moderator in a known TV political show in Albania, says that the left wing government is filled with people without experience. "As far as political experience and experience in governing are concerned, this government resembles more to that of 1992. There's a total lack of experience by those who today are in charge of the reforms. As far as the atmosphere that the change of power should have brought, in reality it seems as a continuation of the degradation of bad governing or the last year of the majority that we left on June 23, 2013. There's no difference. We also have a majority which until today has not drafted a legal framework for any of the reforms started a year ago. We have a majority which has a record number of losses in judiciary cases in the Constitutional Court against the opponent as far as approved laws are concerned, those few laws which have been approved in the past 9 months".
What can be considered as successes of the left wing government in these 9 months of government, a year after it came back into power with the strong slogan of "Renaissance"?
Analyst Fatos Lubonja says that there cannot be talks of a Renaissance, but "talks about efforts that we may see to improve something".
Even columnist Blendi Fevziu doesn't see any successes. "As far as successes are concerned, I don't see any. Of course I have my complaints about the way it has been acted in several occasions, such as the problems with public administration and lay offs in public administration, a tendency to bring back figures and symbols of dictatorship which cause pointless debates, but these debates come at a moment when the government doesn't have anything else and they take it back to a conflict of the past".
Analyst Artan Hoxha too doesn't see any successes. He says that he only sees "a big energy channeled in an arrogant and negativist way".
Journalist Cim Peka uses irony when he says: "The only Renaissance in the past 9 months for the most optimist of this government can be tourism in the canyons of Skrapar. I don't see anything else".
Lazarat can be easily considered as one of the greatest achievements of Rama's government. For two decades in a row, no other government didn't dare to enter the village notorious for drugs and where according to international reports, 5 billion USD worth of drugs were circulated every year.
Analyst Fatos Lubonja says that the intervention in Lazarat has its own elements of success, because it offers the message that Albanians must change their economy, from an economy of drugs to another economy. "This somehow changes the image of Albania and it offers a message according to which the government can act and do everything when it has the will, but I consider this as an operation to boost image. I believe that the biggest success is to give this government a better image than the government of Sali Berisha, which has not acted at all in Lazarat during its 8 years in power".
Artan Hoxha admits that Lazarat is a success of its own. "It was a massive police operation against the cultivation of cannabis which had become a symbol of drugs. This operation came after a period of 7-8 months of failure by this government to stop the traffic".
Journalist Cim Peka says that the super operation was an achievement: "Lazarat was a success, a local one nonetheless, which was boasted more than it should have. It was said that Lazarat had 4 billion Euros inside. It ended up in an operation which luckily had no resistance. For an area of 20 acres, where there are 4 billion Euros, the resistance would be extraordinary".  /ibna/