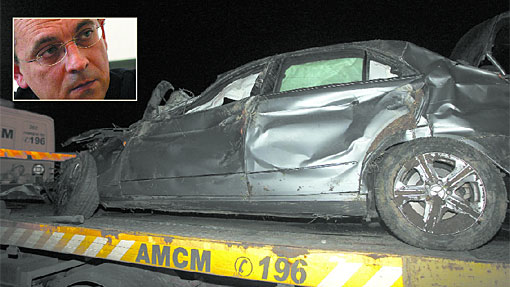 Skopje, March 26, 2014/Independent Balkan News Agency
By Naser Pajaziti
It's been a year today (26.03) without the prominent journalist, the publisher of the weekly "Fokus", Nikola Mladenov, who died in mysterious circumstances in an accident on the night of March 27 and March 27, 2013.
Mladenov lost his life a year ago in a road accident in the highway linking Veles to Skopje.
According to the report of the Ministry of Interior, the cause of death is the explosion of a heart artery, as the vehicle that he was driving has swerved off the road with a 140 km per hour speed and has fallen into a precipice. On the night of the tragedy, the family of the victim could not contact with him as of 10 pm, while police found the vehicle and the body of the victim the following day at 1 pm.
But, the family and the heads of the weekly "Fokus" suspect on the verity of the expertise, saying that they will demand fresh investigations on the case.
Editor in chief of the magazine, Jadranka Kostova says that the newsroom that she leads will not withdraw from this case. "We do not withdraw from our mission to shed light on the tragedy, but this will only be possible if the government changes", said Kostova.
Aleksandar Dimitrov, editor of the weekly magazine and former foreign minister also has his suspicions on the tragedy and the death of the journalist. "There are many questions that have not been answered in relation to the controversial accident", said Dimitrov.
Journalist Dimitrov passed away at the age of 49, leaving behind the biggest magazine in the country and being one of the strongest critics of the current and past governments in FYR Macedonia.
Ministry of Interior and investigation authorities have closed this case, stressing that this has been a mere accident. /ibna/