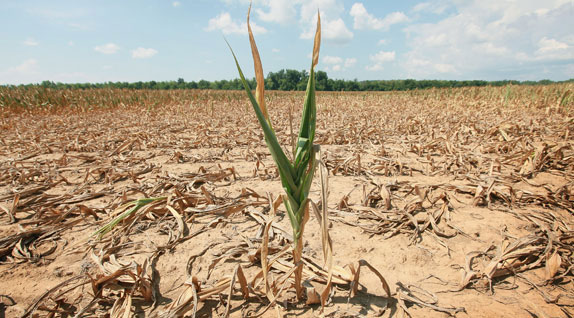 Sarajevo, August 20, 2015/ Independent Balkan News Agency
By Mladen Dragojlovic
Last year, BiH will be remembered as the period of the worst floods in recent history which caused millions of euro of damage on residential buildings and in agriculture. This year, on the contrary, will be remembered as a year of drought and once again agriculture is under danger to be devastated by natural disasters.
According to RS Government report, the areas most affected by drought are Semberija, Lijevce Polje and Posavina, on the north of BiH, where agriculture represents a major source of income for citizens and the one of the biggest agricultural areas in BiH and RS. In the report, experts say that the total damage caused by drought just in agriculture will be over 200 million BAM (100 million euro). RS Ministry for agriculture and forestry emphasised in the report that corn is one of the most jeopardized crops, but vegetables on the open field and fruit production are also in big danger. The ministry concluded that the weather extreme conditions negatively affect livestock production especially in the dairy sector, poultry and pig breeding.
Along with the drought, the big causes of problems in agriculture are storms with large amount of hail, which directly damage fruits and vegetables. The total damage in this year, as it is estimated, is about 14,5 million BAM (7,5 million euro).
The drought also affects many other industrial branches. Under large influence of this disaster are hydro energy and forestry. Damage in hydro energy will be estimated on the end of year because there is still a chance to improve results during fall. Forestry, according to newest reports, has been suffering for the last several years and large amount of threes are already dry and useless.
To the problem with forests pointed several managers in Forest estates, who sent have letters to the relevant Ministry and Faculty of forestry in Banja Luka. They insist on establishing teams of experts who will come in the most jeopardised forests and define whether the cause of the problem is just drought or something more, like disease.
If in the years to come continue, such extreme weather conditions continue to be the norm, BiH and its entities will be under pressure to adopt a new strategy to fight against the consequences, since it is obvious that the current strategy doesn't yield positive results.