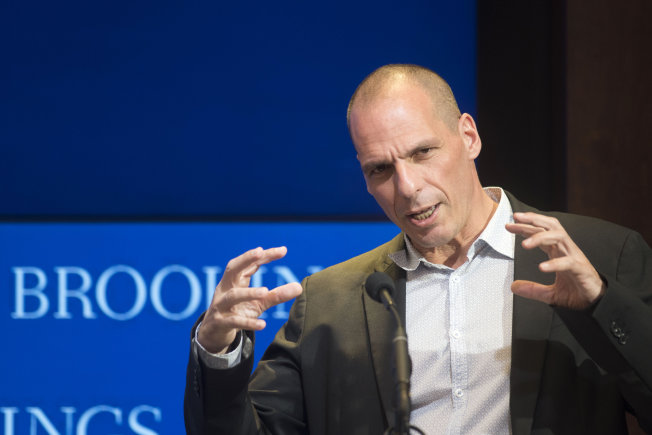 Athens, April 17, 2015/ Independent Balkan News Agency
By Zacharias Petrou
During a gathering at the Brookings Institution in Washington, Finance Minister Yanis Varoufakis said Thursday that Greece wants to reach a deal with its international creditors by the end of June.
Varoufakis said it would be "wrong" to accept the memorandum of understanding as he questioned the terms of the austerity package that he says has led to a Great Depression in Greece.
"Liquidity is drying up in Greece. It is true," the minister said. "Toying with Grexit, or amputating Greece, is profoundly anti-European. Anybody who says they know what will happen if Greece is pushed out of the euro is deluded," Varoufakis added.
"I would willingly, eagerly, accept any terms offered to us if they made sense. Insisting on a primary budget surplus of 4.5pc in a depressed economy with no functioning banking system is absurd. We have the right to challenge the logic of a programme that has failed," he said.
"We will not settle for another version of extending and pretending, that gives Greece's debt-deflation spiral another twirl," Varoufakis also explained.
He was speaking before a reception to celebrate Greek independence at the White House. It is understood that he spoke privately with President Barack Obama, though not at the Oval Office.
Earlier, Christine Lagarde, the head of the International Monetary Fund, said the IMF is worried about the "liquidity situation" in Greece. "We have never had an advanced economy asking for payment delays. It is clearly not a course of action that would be fit or recommended," she said.
Meanwhile, Wolfgang Schauble, Germany's finance minister, said it is up to Greece to decide its own fate. "If they want to find money somewhere else, whether in Moscow, or Beijing, or New York, that's fine, we'll be happy," he said.
"We will not help a country that refuses to help itself. If Greece wants the next disbursement of €1.8bn, it must fulfil what is agreed. That is called the Memorandum of Understanding," he said, also speaking at the Brookings Institution.
"There can be no mutual liablity in Europe. Providing debt relief and transfers won't help any country. The problem of moral and political hazard in Europe isn't some narrow-minded mantra," he said.