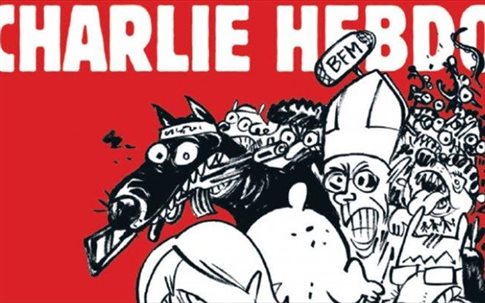 Athens, February 25, 2015/ Independent Balkan News Agency
By Spiros Sideris
A surprise awaited the readers of the French satirical magazine Charlie Hebdo today. It has another amazing cover showing a dog running, while holding in its mouth a magazine, to save himself from other rabid dogs in human form (Sarkozy, Marine Le Pen, the Pope), while another dog is black and has a gun in itsmouth. It is the Islamic State.
According to Bloomberg, inside the magazine there is a Greek dossier on debt crisis and has an interview of Yanis Varoufakis.
"Here we are again", is the headline of Charlie Hebdo, which recirculates after a big pause. "We needed a break, a pause…" said the chief editor of the magazine Gerard Biard, explaining why the magazine was absent from the "stands" for more than a month after the terrorist attack on the offices in Paris in January that claimed the lives of 12 persons, including nine editors.
"There were those who wanted to go to work again immediately, like me, and those who needed more time. Thus, we reached a compromise and agreed on February 25 to begin again on a weekly basis", added Biar.