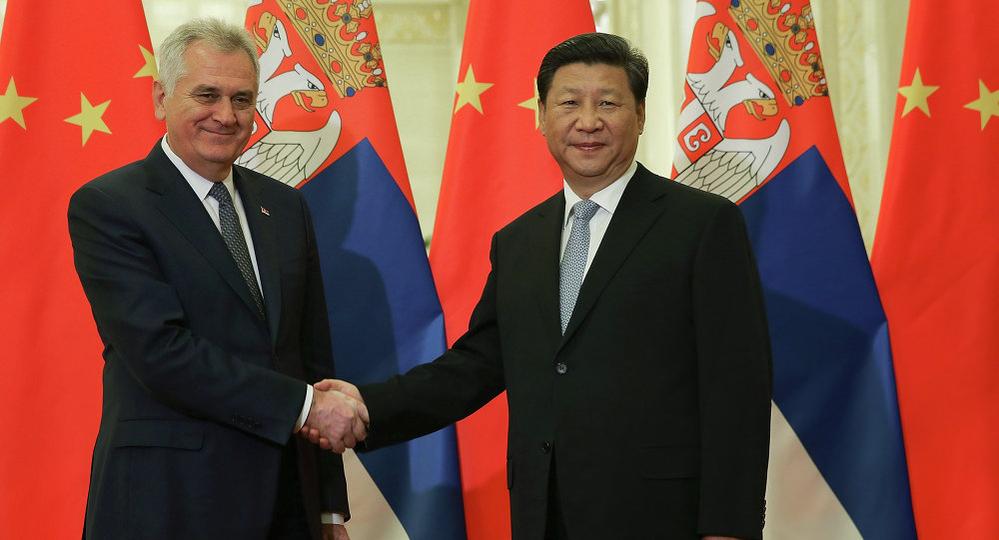 Belgrade, August 31, 2015/ Independent Balkan News Agency
By Milos Mitrovic
Serbia is an important and sincere partner of China in the Central and Eastern Europe, Chinese President Xi Jinping said at the meeting with his Serbian counterpart Tomislav Nikolic in Beijing today. Nikolic invited Xi to visit Serbia, check Chinese investments in Serbia and "meet the friendly Serbian people".
The major infrastructure projects such as thermal power-plant "Kostolac" and Belgrade-Budapest railway would give an important impetus to the economic cooperation of Serbia and China, Xi and Nikolic have concluded, Radio-television of Serbia reported.
Nikolic underlined the importance of implementing road corridors projects run by Chinese investors in the region; he asked Xi if Chinese partners could prolong the loan repayment for 20 years and reduce interest rate. In this way Serbia would be able to fulfill its obligations efficiently and optimally, he said.
Serbian head of state stressed the number of domains China could invest in – food industry, pharmaceutical industry, IT domain and trucks and tractors industry.
Xi stressed China's devotion to friendship with Serbia adding that Chinese companies would be encouraged to invest in Serbia even more. "The conditions of financing are important for each project and we will find the way to implement the job. Your side is welcome to suggest the new projects and we will support them", Chinese leader told Nikolic.
Serbian army at Beijing parade
President Nikolic told Xi that he would be happy to share his feelings with Chinese friends on the occasion of 70 anniversary of victory against fascism. Later this week Nikolic is to attend the celebrations in Beijing on the Victory day. The Serbian army will also take part in the military parade at the Tiananmen Square.
"You had a huge contribution to the improving of the friendship of our two countries and now it is time for our relations to reach a new level. Serbia is our important and sincere partner in the Central and Eastern Europe", Xi told Nikolic.
While the leaders of "all relevant countries" were invited to attend Beijing celebrations, heads of state of Japan and major Western countries declined the invitation and will be represented by lower-level officials.
Alongside the Chinese army, soldiers from 17 countries will take part in the parade, namely: Afghanistan, Belarus, Cambodia, Cuba, Egypt, Fiji, Kazakhstan, Kyrgyzstan, Laos, Mexico, Mongolia, Pakistan, Serbia, Tajikistan, Russia, Vanuatu and Venezuela.