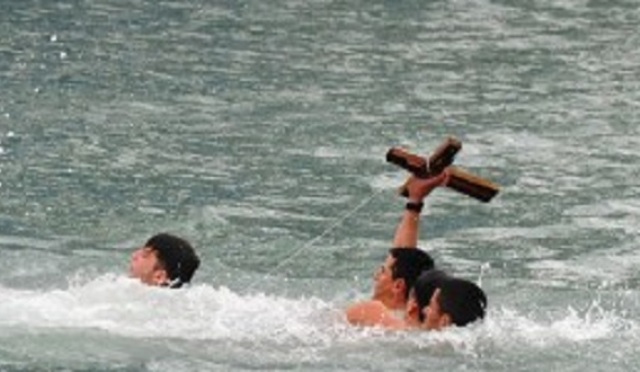 Photographer Hektor Pustina has captured some of the most interesting moments of this ceremony in Berat too
Tirana, 6 January 2016/Independent Balkan News Agency
By Edison Kurani
Orthodox believers in Albania have celebrated on 6 January the Day of the Blessed Water.
In spite of the bad weather and heavy rain, numerous believers and many other citizens, participated in this important event celebrated in most of the cities.
They used sea, river and lake water to celebrate this special day for orthodox believers.
In the port of Durres, the largest in Albania, it was a special day for Xhulio, a 20 year old young man who was resolved to catch the cross at sea, in spite of the cold.
The symbolic ceremony of the launch of the cross in the water, was held as every year in dock 5.
The ceremony was held immediately after the morning's ceremony in the cathedral of Saint Paul and Saint Asti. The port authorities had taken all measures for the holding of the ceremony, from the accompanying of believers to the dock, where the ritual took place, to the care for the health of those young people who challenged the cold waters for the cross symbolic catch.
Among those who fought to catch the cross, the cold water of the Adriatic sea was also challenged by the 20 year old student Xhulio Arapi.
Amid the congratulations of the believers, Xhulio managed to come out triumphant over several other youngsters, being him the one who caught the cross that was thrown at sea.
After coming out of the sea, the happy boy wished peace and harmony for everyone. The celebration of the Day of Blessed Water in Durres is one of the religious ceremonies that is held every year in countries where there are orthodox believers.
6 January according to the Bible
According to the Bible, this day celebrates the baptize of Jesus Christ in the waters of Jordan river by John the Baptizer. The tradition of baptizing is a religious ritual, which is followed by both the Orthodox belief and the catholic one, to convert this way a person into a believer and a follower of the respective belief.
Photo: Blessed Water in Berat
The activity of Orthodox believers took place in Berat. They throw the cross in the river and young people dive in to catch it.
After being blessed several times, the cross was thrown in the Osum river waters, which was pretty swollen due to the heavy rain.
It was 12 courageous boys from Berat, who went in the river to take out the cross, but the one who was able to take it out was Ilia Karabina, resident in the quarter of Gorica.
Photograph Hektor Pustina has captured several of the most interesting moments of this ceremony which you can find below: