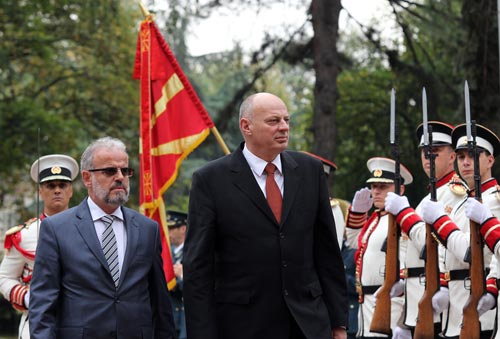 Skopje, September 30, 2013
FYR Macedonia and Kosovo will boost up military collaboration. This was stressed today by the Minister of Defense of FYR Macedonia, Talat Xhaferi and the Minister of Security Forces of Kosovo, Agim Çeku.
The two ministers signed today in Skopje the Protocol for military collaboration which aims to boost collaboration in defense, military education exchange of experiences, etc.
"FYROM will continue to support Kosovo and Security Forces in establishing the necessary capacities in compliance with Marti Ahtisaari plan", said Minister of Defense of FYROM, Xhaferi.
According to minister Çeku, FYROM and Kosovo contribute for regional peace and are an example for neighboring cooperation.
In response to journalists' questions as to how is the security situation in Kosovo and region, minister Çeku declared that it's stable, in spite of incidents that take place from time to time.
Kosovo and Serbia are in a new phase of relations, while the scope of the agreement is the normalization of relations and integration in the northern part of Kosovo and Serb community in compliance with the Constitution of Kosovo. Northern part of Kosovo has always been a potential threat for peace and security in Kosovo, but we are optimistic that the situation will improve", said Çeku. /ibna/