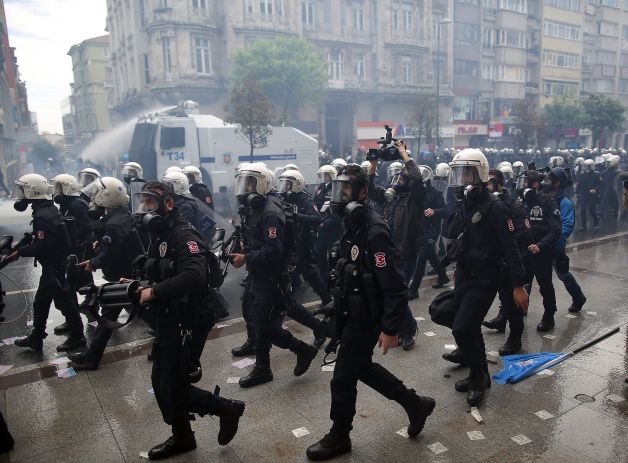 Erdogan's stubbornness regarding Taksim Square
By Manolis Kostidis – Ankara
The stubbornness of Recep Tayyip Erdogan, to ban the events of Labour Day in Taksim Square in Istanbul, was the cause for the protests to be marred by violence and blood.
According to the official announcement of the turkish authorities, 90 people were injured in the street battles between the police and the demonstrators.
The police tried to prevent the marches headed for Taksim Square and the protesters clashed with them at the barricades that had been erected.
Information indicates that there have been at least 140 arrests.
Among the injured are young children as they inhaled tear gas thrown by the police and were evacuated to the nearest hospitals.
Security forces even beat the MP of the Republican People's Party, Safak Pavey
In Taksim Square, which is considered the heart of the city, as well as in Pera, there was nothing but the police and the birds.
19,000 policemen were on every street in every point around the square to prevent any form of concentration. Passage was denied neither to passers by nor to the city's residents.
Throughout Istanbul 39,000 men of the security forces had one aim, to prevent the demonstrations!
The authorities, in order to prevent the people from arriving, they stopped all transportation. The metro trains and the buses were not operating. At the same time, all ferries from the Asian to the European shore of Istanbul were stopped.
Tourists visiting the city, in order to get to their hotels they had to carry their luggage for many miles on the streets, since the main roads were closed.
The Turkish prime minister a few days ago had warned protesters not to have "any hope for Taksim".
The office of the prefect of Constantinople had announced that he has reports that "illegal terrorist groups" would resort to violence against the police, to justify the extraordinary measures!
The first attempt by the protesters to reach Taksim was in the morning when a group gathered in Besiktas district marched to the barricades that have been erected in the streets that lead to the square. That is where the first street fighting occurred. This was followed by dozens of other attempts from other areas that resulted in violent episodes.
Taksim Square has a symbolic meaning for the unions in Turkey, since on Labour Day 1977, 34 protesters were killed there by gunfire that came from strangers who were probably members of a paramilitary organization.
Between 1977 and 2009 demonstrations there prohibited. Labour Day was declared a national holiday in Turkey just in 2009 by the Erdogan government and for the first time the demonstrations in Taksim Square were allowed. Until last year there was no problem. But the ban was reinstate after the episodes in Gezi Park where the protesters resisted for three weeks to the police forcibly, which tried to remove them from Taksim Square, and protested against the government and its plans for the concreting of the park.