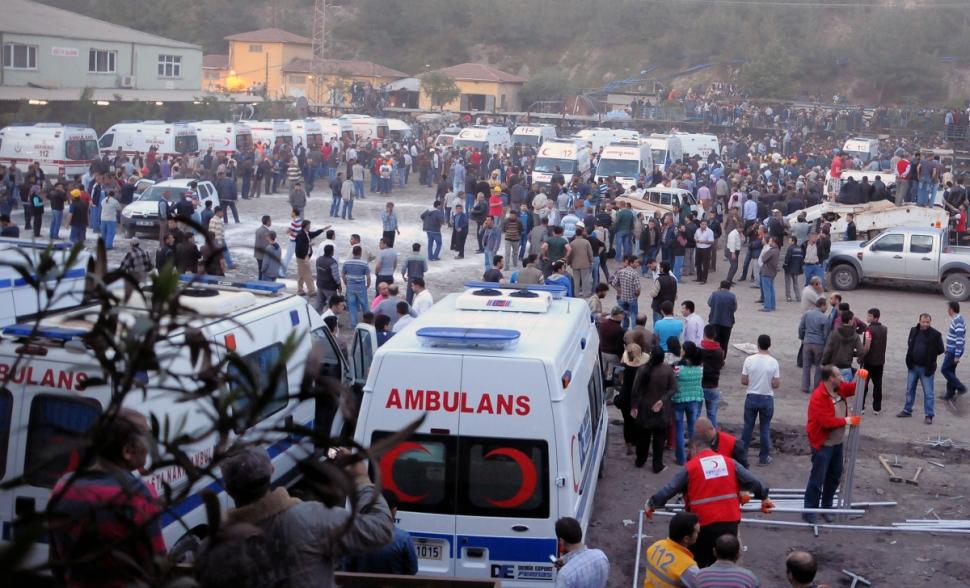 An upset Erdogan stated that "Turkey's level of employee safety is good"
By Manolis Kostidis – Ankara
Turkey is faced with the worst mine disaster in its history. Up to Tuesday afternoon they had pulled out 238 dead from the galleries of the mine in Soma district of Magnesia, in western Turkey.
There are fears for the number of victims increasing as there are at least another 200 workers unaccounted for. Most miners died from lack of oxygen in the mine shafts, since the fire has not been extinguished and the rescue teams are unable to approach the area in which the workers are trapped.
Energy Minister Taner Yildiz said the crash was caused by a transformer explosion , accompanied by a fire that has not yet been extinguished.
The president of the Mechanics Union, Hussein Yesil, however, said that according to research conducted by electricians in the mine as well as based on the testimony of the miners, there was no explosion of a transformer or a generator, while the president of the Federation, Mehmet Torun, claimed that the accident was caused from a fire that broke out in the mine shaft in which the explosion occured.
The miners' unions reveal that this mine was publicly owned and privatized. The coal mining project was undertaken by a subcontractor, who even hired underage employees, as among the victims they found minors between the ages of 15 and 17 years .
The owner of the company Soma, Madencilik, Alp Gürkan, took over the management of this specific mine in 2005 by the National Coal Company and reduced its operating costs by approximately 80%!
In an interview for the newspaper Hürriyet he had revealed that "the cost of a tonne of coal mining in the state company reached 140 dollars, while we have reduced the cost to 23.8 dollars and we produce profit".
In Istanbul, outside the offices of Soma Holding, the owning company of fatal Mine Magnesia, have already gathered protesters who shout anti-government slogans and call for those responsible for the accident to be held accountable.
Recep Tayyip Erdogan, during his visit to Magnesia and the mine appeared shocked. He canceled a planned trip to Albania and stood close to the relatives waiting outside the mine .
The Turkish Prime became irritated at a reporter's question that demanded an explanation for the lack of safety standards. "You do not have a clue how the mines operate. Turkey is a successful country in terms of job security. In this particular mine there was a safety check last March and everything was found to be ok".
The Greek Deputy Prime Minister and Foreign Minister, Evangelos Venizelos, called the Turkish Foreign Minister, Ahmet Davutoglu, to express the heartfelt condolences of the Greek people for fatal tragic incident, as well as and Greece's readiness to provide assistance to the rescue operation of those trapped.
Ankara did accept any of the offers from various countries who offered their help, among which were Israel and the U.S.