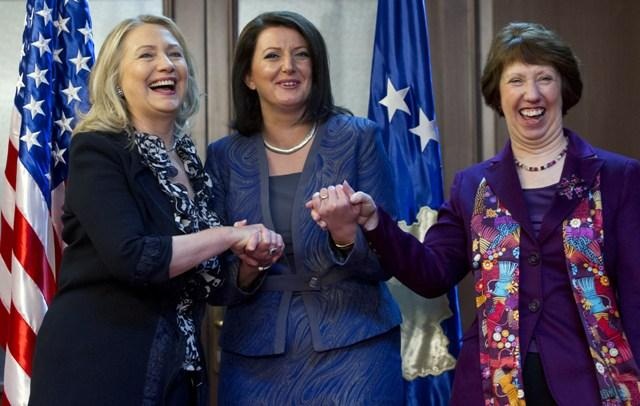 IBNA Special Report/Talking to IBNA, Mrs. Atifete Jahjaga said that she's using the Summit being held in New York, in order to lobby with the women leaders of UNO member countries which have not recognized Kosovo so far
Pristina, April 4, 2014/Independent Balkan News Agency
By Elton Tota
Prominent personalities from all over the world have gathered in New York in the Fifth Edition of the Women World Summit.
Present in this summit is also the president of the Republic of Kosovo, Atifete Jahjaga.
During the proceedings of the Summit, she has met with former US Secretary of State, Hilary Clinton (photo), former British Foreign Secretary, David Milliband and the head of IMF, Christine Lagarde. She has also talked with the American ambassador, Verveer, focusing on the advancement of the role of women in society.
Contacted by IBNA, the president of Kosovo said that she's using the 5th World Summit in New York to lobby with women leaders and ambassadors of those countries, members of UNO, which have not recognized Kosovo so far.
I'm discussing with these personalities on the issues of the recognition of Kosovo from the countries which are yet to recognize the independence of Kosovo, said Jahjaga.
The fifth edition of this Summit was opened by the founders of the Summit, Tina Brown, Hillary Clinton and Christine Lagarde.
In only 5 years, said Mrs. Brown, this event has evolved from a small conference with 300 guests, to a super meeting which now gathers more than 3 thousand women from all around the world who talk about issues that affect women from Washington to Rwanda.
Daughter of Maryl Streel, Mamie Gummer, talked during this summit for a woman who was attacked by the Syrian regime. Gummer read the text of a child which has attracted the attention of the entire world on the war in Syria.
"I have been in schools which were bombarded and where several of the children remained killed. We thought that schools all over the world were bombarded", cited Gummer the words of the Syrian kid.
Gummer said that statistics in Syria are "terrible". Over 1500.00 deaths and 9 million displaced Syrians.
Two Syrian activists shared their experiences of survival amid the bomb attacks.
The Panel of Discussions continued with a conversation between Hillary Clinton and Christine Lagarde, IMF chief.
"Women are the most unexploited source in the world", said Clinton.
"Women are showing that they are working harder than men", added Lagarde.
A large number of representatives of women organizations from all over the world and different world personalities are participating in the summit. Among them is also the former American president, Jimmy Carter, former US secretary of state, Hillary Clinton, former British foreign secretary, David Milliband, IMF chief, Christine Lagarde, Executive Chief of the Institute for Women, Peace and Security, Melanne Verveer and other prominent personalities from the world of culture such as actress Meryl Streep, publicist Thomas Friedman, etc.
The three day summit joins many women of the world in an agenda focused in the life of women. World personalities inspired by women and men from all over the world, share for a period of three days their true stories of courage, changes and determination for progress. /ibna/