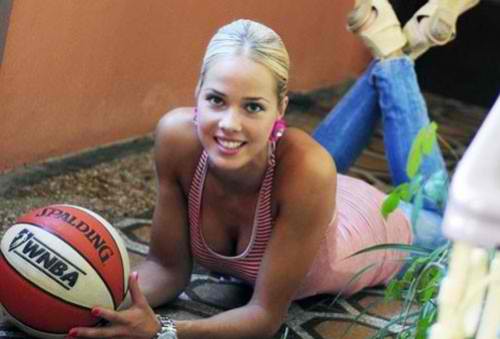 By Natasa Radic – Sibenik
The most beautiful woman of Croatian sports, basketball player Antonija Misura decided to participate in the local elections in her hometown Sibenik, in central Dalmatia, on Croatian coast, joining the election list of the conservative HDZ – Croatian Democratic Union. Misura joined HDZ's press conference last week posing for the family picture, but not extensively speaking to the press so the local media did not discover why she wants to join the City Council.
Misura just said that she has been the member of the HDZ youth organization for many years and that she wants to help her party now with the elections approaching.
Croatian sportsmen and sportswomen have often exchanged the sport fields with the political arena, joining different Croatian political parties. Still, Antonija is among a few that decided to compete on the elections while still active in sports. She is 25 years old and as of 2012 she studies tourism management in Sibenik. She was named Miss Mediterranean Games in 2009 by a poll of 80 accredited photographers from 23 countries.
Blond Barbie of Croatian basketball says that this kind of media attention both flatters her and annoys her.
Misura, named as the most beautiful sportswomen of the Olympics 2012 in London currently plays for the basketball club Toulouse in France, so far focusing on her education and career, declining many modeling offers that poured from all over the world, could not resist the call of politics – getting the 8th position on the HDZ local list for the local elections scheduled on May 19th – might just get her in Sibenik's city council. Four years ago, the party won 9 seats but in case Misura enters the local government she will probably be replaced by a substitute because of her active career in France. She briefly declined these media speculations by saying that she can manage to do both – play basketball in France and represent the voters in Sibenik's city council.