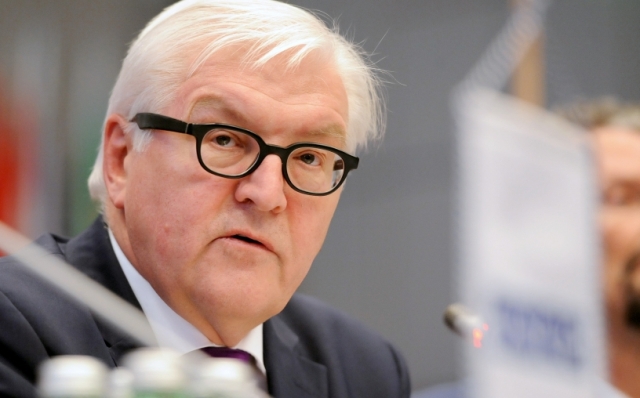 Tirana,  3 May 2016/Independent Balkan News Agency
On World Press Freedom Day, OSCE Chairperson-in-Office and German Foreign Minister Frank-Walter Steinmeier and the OSCE Representative on Freedom of the Media Dunja Mijatović, stressed the importance of free and independent media for the development of democracy.
"Today, we pay tribute to journalists worldwide who brave violence, persecution and intimidation to record and report the truth," Steinmeier said. "Free, independent media are an indispensable cornerstone of free and democratic societies. The OSCE has a crucial role to play in setting and upholding common standards to promote this principle."
"This day is a reminder of the importance of free media and the fundamental role it plays in civil society," Mijatović said. "Journalists around the world, not least in the OSCE region, are performing their tasks under increasingly difficult conditions."
Mijatović noted with grave concern the mounting number of attacks against members of the media around the world.
"It is simply unacceptable that journalists are threatened for what they say or write. Governments must do their utmost to ensure journalists' safety," Mijatović said. "The wave of online threats targeting journalists is adding to an already deteriorating situation.
Particularly worrying is the way female journalists are being singled out and targeted."
The overarching theme for this year's World Press Freedom Day, held in Helsinki, Finland, is access to information and fundamental freedoms, with a special focus on the inter-connectivity between press freedom, a culture of openness, the right to freedom of information and sustainable development in the digital age.
"Access to information is a fundamental and basic human right. Without it, members of the media are not able to seek and receive information on issues of importance to the public," Mijatović said. "In times of crisis, this right is instrumental to counter the vicious elements of propaganda."
"Times of conflict are, unfortunately, also times of propaganda and of distorted images. That is why, as OSCE Chairmanship, Germany is putting a special focus on freedom of the media and on how to ensure access to independent information in times of crisis," Steinmeier said.
On World Press Freedom Day, the OSCE Representative on Freedom of the Media Dunja Mijatović also issued a joint declaration on "Freedom of Expression and Countering Violent Extremism" together with special rapporteurs on free expression from the United Nations (UN), David Kaye, the Organization of American States (OAS), Edison Lanza, and the African Commission on Human and People's Rights, Pansy Tlakula. /balkaneu.com/