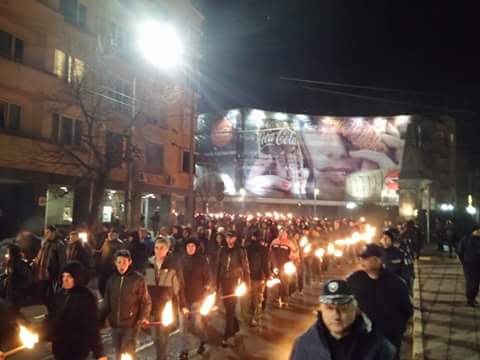 The World Jewish Congress says that it is distressed that the Lukov March in Sofia went ahead in spite of a ban by Bulgarian capital city mayor Yordanka Fandukova.
Fandukova ordered the ban after being advised by Sofia police, who had received information via Interpol, about the participation of foreign neo-Nazis in the march, which honours Hristo Lukov, leader of the Union of Bulgarian National Legions in the 1930s and 1940s.
The torchlight procession, celebrating a figure that his detractors see as having been a pro-Nazi and anti-Semite, has been held since 2003, and has been banned numerous times – but always gone ahead anyway.
World Jewish Congress CEO Robert Singer said: "On behalf of the Jewish community in Bulgaria, we welcome Mayor Fandukova's ban this year on the rally, but are distressed that even that declaration of authority could not put a stop to such a display of hatred and anti-Semitism".
"For 14 years in a row, neo-Nazis have marched unabashedly and unfettered through the streets of Sofia," Singer said.
"For 14 years, the Organization of the Jews in Bulgaria, Shalom, has done everything in its power to sound the alarm against this dangerous manifestation of the same anti-Semitic expressions that brought about the near destruction of European Jewry. And for 14 years, this march has been sanctioned despite all efforts to stop it, on the grounds that the marchers were careful not to exhibit overt Nazi, anti-Semitic or fascist symbols," he said.
"Regardless of what symbols are exhibited during rallies of these kinds, the intentions are clear, and the dangers ever-present. Let us not forget that the genocide of the Jewish people was preceded by a democratic election and seemingly harmless mass demonstrations.
"Let us not forget that it is precisely these mass manifestations that inspire susceptible youth to share the same hateful message. Let us not forget that when hate speech is sanctioned, hateful actions become all the harder to prevent," Singer said.
Shalom president Dr. Alexander Oscar said that his organisation, along with the Israeli and the US embassies, had issued clear statements ahead of the February 18 2017 Lukov March, alerting the authorities about its fascist ideology and potential national security risks.
"The very existence of this rally is a disgrace for a European capital which in less than a year will be hosting the Bulgarian presidency of the Council of the EU," Oscar said./ΙΒΝΑ